John B live on stage at one of the biggest D&B Parties in the world – Pirate Station, this time in Moscow – recorded on October 26th 2016!
Apologies for the sound quality in parts – the audio is taken from the live radio broadcast, and then sections where other DJs were being interviewed over the set (you may remember from the St. Petersburg Podcast too) audio from the live internet feed was used to keep it uninterrupted! (Big thanks to Evil Concussion, and Mikhail O on VK for their help with sorting out & editing the audio!). We hope you will agree its better to be able to enjoy the music than not at all!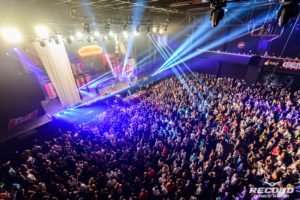 If you like the set please 'like' and share on your social media channels to help get the word out and get more people to hear the music 🙂
John B DJ Booking Enquiries (Worldwide): [email protected]
North American DJ Bookings: [email protected]
Russia/CIS DJ Bookings: [email protected]
LINK FOR DIRECT DOWNLOAD OF MP3: http://podcast.johnbpodcast.com/content/JohnBPodcast166.mp3
Check out the whole gallery on Facebook here: www.facebook.com/johnbbeta
An hour long set of most of the tracks John played at the huge Pirate Station event in Moscow this Saturday!
Subscribe in iTunes: CLICK HERE to subscribe in iTunes.
Remember to 'like' John B on facebook here.
LINK FOR DIRECT DOWNLOAD OF MP3: http://podcast.johnbpodcast.com/content/JohnBPodcast108.mp3
TRACKLIST
1. Faith – Camo & Krooked
2. Anxious – Icicle
3. Up All Night (Epic Mix) – John B
4. I don't need a reason (Mampi Swift Remix) – Dizee Rascal
5. The Hand That Feeds (Zardonic Remix) – Nine Inch Nails
6. LRAD (Prototypes Remix) – Knife Party
7. Futile – Conduct
8. Send My Love to Mother Russia – John B
9. The Journey (Metrik Remix) [Russian Wedding Proposal VIP] – John B
10. Long Gone Memory – Friction
11. Weightless – Etherwood
12. Night Thought – Kove
13. Outta Endz – Dom & Roland
14. Breakin Badboy – Drumsound and Bassline Smith
15. Damages – John B ft. Shaz Sparks
16. Perforation – Wilkinson
17. Language (Koncept Remix) – Porter Robinson
Another studio mix – recreating his set at this year's Pirate Station Apokalypse event in Moscow, October 2012, we have John B on the decks with just over an hour of massive, stadium Drum & Bass. Enjoy!
CLICK HERE to subscribe in iTunes
LINK FOR DIRECT DOWNLOAD OF MP3: http://podcast.johnbpodcast.com/content/JohnBPodcast097.mp3
Check out photos from the event on John B's Facebook page.
PODCAST 097 TRACKLIST:
1. Counterstrike // Empire [John B Epic Intro Version]
2. Dirtyphonics // Dirty (Metrik Remix)
3. Eric Prydz // Every Day (Andy C Remix)
4. Zedd // Spectrum (High Maintenance Remix)
5. John B ft. Code 64 // The Journey (Metrik Remix)
6. John B // Send my Love to Mother Russia
7. High Maintenance // Never Enough ft. Katie's Ambition
8. The Upbeats // Undertaker
9. Calyx & TeeBee // Skank
10. MONSTA // Holdin' On (Nero & Skrillex Remix)
11. Matrix & Futurebound // Magnetic Eyes (Smooth Remix)
12. John B // Numbers (Camo & Krooked 2012 VIP Remix)
13. The Prototypes // Suffocate (Instrumental)
14. Netsky // Come Alive
15. Michael Woods ft. Ester Dean // Only Just Begun (Calyx & TeeBee Remix)
16. Big Black Delta // Betamax (Kove Remix)
17. Netsky// We Can Only Live Today (Puppy) (Camo & Krooked Remix)
18. Fred V & Grafix // Major Happy
19. Kove // Iodine
20. Counterstrike ft. Paul McLaney // Masterpiece
21. Calyx & TeeBee // We Fall Away
22. Sub Focus // Time Warp VIP
23. John B // Up All Night (Epic Mix)
24. DJ Swift // Gangster
25. John B // Robot Lover
26. John B & Kirsty Hawkshaw // Connected (McMash Clan Remix)
Post taken from the official John B Blog:
Think I've just about managed to round up all the photos that could be found in the internet from this event 😉
Last Saturday I played in Moscow, for the Pirate Station guys again, HUGE party in a big Expo Hall in the middle of Moscow. Someone told me it was the biggest Expo complex in Europe. I believe them! Hungary was the day before, and I went straight form the gig to the airport in Budapest, didn't get to sleep till about 3pm when I made it to the hotel in Moscow. Woke up to the surreal rumble of the sound system warming up (hotel was in the same complex) and the first of many super-theatrical intros they do, really got me tingling! I'd watched Hellboy 2 earlier in the week, with the 'Golden Army' and man, it sounded like there were a gazillion golden army robo-goblins waking up and crashing about. Too much for my jetlagged & frazzled brain! Heheh!
So yeah, an amazing gig, I got to the stage nice and early so I could hang out with the other DJs and hear what was being played, and just take in the vibes – really good time. So yeah, thanks to all the organizers & to all my Russian fans that stayed right till the end to see me play at 5am! It really was special 😉
You'll already know this if you are a subscriber to my fabulous podcast (!) but they broadcast my set live, and I managed to get a recording and its now available FREE as a lovely podcast! CLICK HERE for more info.
Oh, and add me on vkontakte.ru here!! 😉
All the photos I found (and was thankfully sent by you guys out there) can be seen in galleries on my flickr, facebook & myspace pages. Enjoy!
We've just uploaded another tour video to the podcast feed, and youtube etc for your entertainment…
John played in Russia last Saturday, in a pretty bizarre setting – a water park, in the middle of a huge mall, in the middle of Moscow, Russia. About 1000 crazy Russian ravers were in attendance, complete with speedos & bikinis, going mental to the electroDnB!
Check out the video!
John B @ Water Park Party in Moscow Oct 2008

A VERY random video from John B's gig at the Waterfield Party, at a huge water park in a shopping mall, in the middle of Moscow… Speedos, bikinis, robots, Putin & the HOFF!
Those crazy Russians are at it again! 😉
http://www.johnbpodcast.com/content/JohnB_Moscow_Waterpark_Oct08.mp4
You can also watch the video on youtube if you click here.
John B on tour in Moscow – Djing at a club called 'Persona grata' and visiting the Kremlin and Red Sqare the day afterwards. Oh, and being drunk and wearing a Russian Army hat talking about fighting bears… The usual…
http://www.johnbpodcast.com/content/JohnB_Moscow_Nov2006.mp4