John B back on the decks for another hour-long studio mix session. New tracks from Camo & Krooked, Noisia, Subfocus and Spor – plus a special preview of a new track from John B's next album…
John B Podcast 072 Tracklist:
1. Frankmusik // 3 Little Words
2. Camo & Krooked // Skyline (Beta Recordings CDR)
3. Noisia & Phace // Floating Zero (Invisible)
4. Xilent // Dislocation (Beta Recordings CDR)
5. Evilnine – Live (TC Remix)
6. Culture Shock // Gears (Ram)
7. John B // Mercury Skies (Subsonik Remix)
8. Subfocus // Deep Space (Ram)
9. Dillinja // Threshold (Prototype)
10. Spor // Overdue (Lifted Music)
11. The Upbeats // Tor (BC Recordings)
12. Bassment Jaxx // Twerk (Subfocus Remix)
13. Hadouken! // Mad (Phace Remix)
14. Tiga // Speak Memory
15. John B feat. Shaz Sparks // Shining in the Dark (v1.1)
16. Bloc Party // Trojan Horse (John B Remix)
17. Camo & Krooked // Vampires VIP
If possible please subscribe to the podcast in iTunes here – that way your iTunes will automatically download each new episode as soon as they are published.
If you hate iTunes or just don't have access to the store in your country etc – you can download the podcast directly if you click here.
Photos taken from John B @ PVV Ideon, Czech Republic 29.05.09
We're delighted to announce that John B was voted #1 DnB DJ at this year's DJ Mag Top 100 Poll, coming in at #92 overall!
John was presented with his award on Wednesday night at the Ministry of Sound nightclub in London, by Peter Hook (of Joy Division & New Order). More than 300,000 votes were cast this year, from 263 different countries.
We'd like to thank everyone who voted for John for the support & for taking the time to vote for him. John said in his blog: "I'm absolutely over the moon with the result, it's an amazing achievement to finally break into the DJ Mag Top 100, and an honour to be the highest Drum & Bass DJ! Thank you SO MUCH everyone that supported me in the poll – I promise I'll keep the podcasts coming, and keep giving it 200% on tour! Thanks!!!"
Armin Van Buuren was number 1 for the 3rd year running, (and told John he was secretly a fan of Drum & Bass!), and there were some great DJ sets on the night from Mr Buuren, Gareth Emery, Above & Beyond & lots of other guys, but we'd had too much champers by then to remember!
You can see the full Top 100 list in this month's edition of DJ Mag, or on the DJ Mag website if you click here.
John was interviewed by skrufff.com about the award last week – you can read the article here.
Here's the John B entry in the Magazine: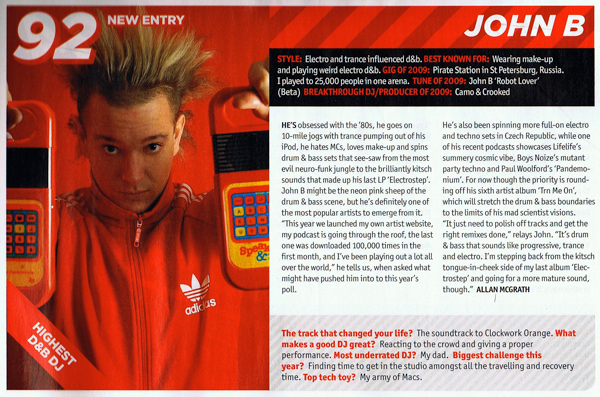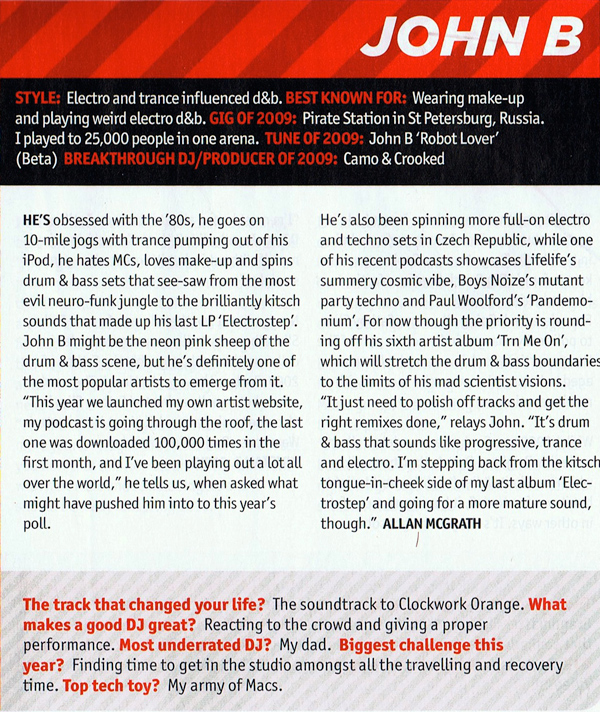 John B's back in the hot-seat with a brand new studio mix for November 2009 & some great news from the DJ Mag Top 100 DJs Poll!!
TRACKLIST
1. // Tesla Boy – Spirit Of the Night
2. // Spor – Halogen
3. // Subwave – First Time
4. // Alix Pirez – I'm Free
5. // Blu Mar Ten – Starting Over (2009 Remix)
6. // Camo & Krooked – Time is Ticking Away
7. // Brookes Brothers – Last Night
8. // Spor – Kingdom
9. // MRSA – MAN
10. // Sub Focus – Vaporise
11. // Steve Hoang – Tell Me Why (MRSA Remix)
12. // Deadmau5 – Ghosts 'n' Stuff (Subfocus Remix)
13. // GMOROZOV – Internet=Hate
14. // Gossip – 2012
15. // Blockhe4d – Spinhead
16. // Drumsound & Bassline Smith – Burning
17. // Trei ft. Thomas Oliver – Lead Me On
18. // Blu Mar Ten – Believe Me
19. // John B – Gollum (L PLUS Remix)
20. // Dodge & Fuski – The Struggle – Subsonik & Terrevita Remix
Please subscribe to the podcast in iTunes (and if possible rate it & leave some nice comments!) using this link
If you really hate iTunes or don't have access to it in your country then you can download the podcast using this link.
Photos by Kayo & Michelle Felix: Taken from the John B Show @ Mercat, Melbourne Oct 2009.