Back in the studio with John B for a glorious 2 hours & 40 of this Summer's best Drum & Bass tracks!
Please subscribe to the podcast in iTunes here – that way your iTunes will automatically download each new episode as soon as they are published.
If you hate iTunes or just don't have access to the store in your country etc – you can download the podcast directly if you click here.
EPISODE 95 TRACKLISTING:
1. Drifta // Half Moon Cay (Subsonik Remix)
2. Angel // Wonderful [Dexcell Drum and Bass Remix]
3. Relay & Front // Pictures Of You (VIP Mix)
4. Bu Mar Ten & Stray // Blind Soul (Bcee remix)
5. Calyx & TeeBee // Elevate This Sound [Ram]
6. Utah Jazz // Fair Play
7. Fourward // Steady State
8. Frankee // Firethorn [Ram]
9. S.P.Y // Infiltrate [Hospital]
10. John B ft. Shaz Sparks // Heroes (Rido RMX) [Beta]
11. Foreign Concept // Jaipur (Villem Remix)
12. Homemade Weapons // Slivers
13. Future Forces Inc. // Strontium Jazz (Dillinja Remix) [Renegade Hardware]
14. Dub Phizix & Skeptical feat T Man // Run It Like The President
15. Bredren // Stepping Stones
16. Mark Knight Feat Skin // Nothing Matters (Noisia Remix)
17. DJ Swift // Gangster [Charge]
18. Placid // Particles [Playaz]
19. Paul Van Dyk Feat. Adam Young // Eternity (Camo & Krooked Remix) Instrumental
20. Metrik // Drift [VIPER]
21. SKisM // Red Heat (TC Rmx)
22. Woody // Reaching Up
23. Fleur vs Cutline // Broken Mirror (Metrik Remix)
24. Bungle feat. Ayah Marar // The Siren (Camo & Krooked Rmx)
25. Netsky // Get Away From Here feat. Selah Sue [Hospital]
26. Bo Saris // She's On Fire (Calibre Remix)
27. Hybrid Minds // Fade (ft. Katies Ambition) [Mainframe]
28. Indivision & Cosmic // BB (ft. Grimm)
29. Ayah Marar // Unstoppable (Metrik Remix)
30. Example // Say Nothing (TC Remix)
31. Fourward // Gone ft. Katie's Ambition
32. Porter Robinson // Language (Koncept Mix)
33. Matrix & Futurebound // All I Know (Maduk Remix)
34. Netsky // Love Has Gone (Enei Remix) [Hospital]
35. DJ Fresh // The Feeling (Metrik Remix) [MOS]
36. Afrojack & Shermanology // Cant Stop Me (Matrix & Futurebound Vocal)
37. Breeze & Modulate // It's Over [Charge Recs]
38. Rameses B ft. Holly Drummond // Dreaming (Artist Recordings 2012)
39. Culture Shock // I Remember [Ram]
40. Skeets // This Moment (Darwin Remix)
41. Drumsound & Bassline Smith Ft Tom Cane // ThroughTheNight
42. Flock of Seagulls // I Ran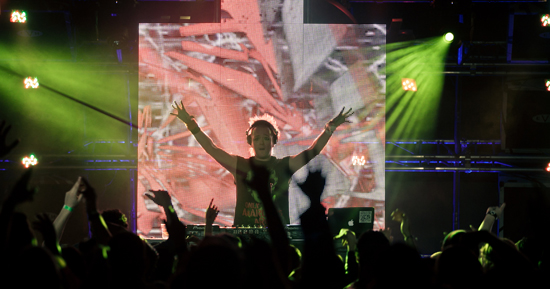 Photos courtesy of OhDayGo Photography.
Click here to see the whole gallery on John B's Flickr, and, don't forget to check out John B's Facebook page by clicking here!
Greetings John B fans! After months of hard training, blood, sweat, and tears, John B has decided to run three half marathons in support of his local charity Thames Hospicecare, based in Windsor and Ascot in Berkshire.
Thames Hospicecare is a registered charity that provides much needed palliative care for individuals suffering with terminal illnesses, regardless of age, background, belief, and sexual orientation. Most importantly they provide this service free of charge. But they can only continue to do so with your generosity.
This is where John B comes in. Starting from August 19th John will run in the Burnham Beeches half marathon, then again on September 16th in Maidenhead and finally in Windsor on October 7th – all in the name of charity.
He needs your help though. By giving a little, or a lot, you can help John make his £1,000 target so that as many people that need Thames Hospicecare's help can get it. By clicking here and donating you can give someone the opportunity to maintain their dignity, and be cared for by the good people at Thames Hospicecare. And, as a little treat for everyone that does donate, you will receive a free exclusive download of an unreleased track by John B!
Please give today and help make a difference to those that really need it! 
#JohnBRuns4Charity
UPDATE – John Completed the Burnham Half Marathon in 2hr10min19sec. Here's a few photos!
Buy now on Beatport
Buy now on iTunes
Buy now on the Beta Store
'Album Of The Week' (Mixmag), 'Album Of The Week' (The Independent), "The 'Drive' soundtrack with a rocket up its arse." (DJ Mag); just three of the reactions to John B's latest 'Light Speed' album from earlier in the year, a neon-soaked journey into one of the most epic drum & bass LP's of recent times.
Now the title track is about to be unleashed with a package of remixes that go beyond the norm, ready to hit all corners very hard indeed. For John's most ambitious single release yet, some of the most exciting young producers from around the world have been drawn in to offer their take on the uplifting stadium anthem 'Light Speed' featuring the vocal talents of NSG.
From the totally re-worked club house mix through to hyper-boiled drum & bass smashers and electroid dubstep, no holds have been barred and if hi-rolling drumstep is what you're after, John's even got that too. A massive dynamite release from one of electronic music's most flamboyant figureheads.
Original / Instrumental / Extended D&B Mix / Radio mix / L Plus Rmx / Illskillz Rmx / Hectix Rmx / Indivision & Cosmic Rmx / Terravita Rmx / Andy Malex Rmx / Beauty Brain & Mendez Rmx
Watch John B's tour video from Sun Gate 4 here, with a preview of Terravita's remix of 'Light Speed'!:

And finally, check out L Plus' remix of 'Light Speed' on the UKF Drum and Bass youtube channel:

Listen to all the remixes here on soundcloud
[soundcloud url="http://api.soundcloud.com/playlists/2103860″ height="200″ iframe="true" /]