Buy on iTunes: http://www.smarturl.it/BETA047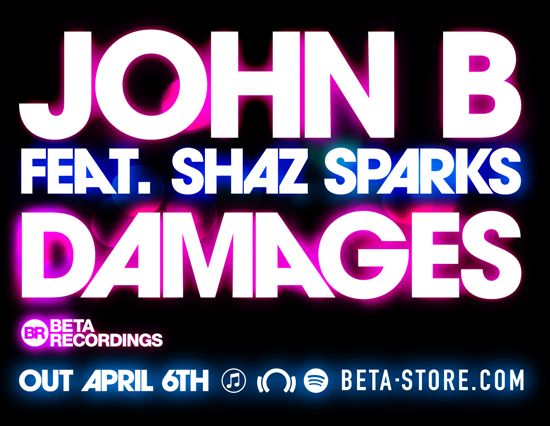 Buy on iTunes: http://www.smarturl.it/BETA047
Buy on the new Beta Recordings Webstore: Click here
Buy on Beatport: Click here
"One of D&B's few genuine global super-producers… John B really is in a league of his own… Remember John B's unique contribution to the genre". -Mixmag
John B is one of electronic music's most distinctive, creative and consistent contributors. Splicing genre DNA like a modern mad scientist. His latest offering 'Damages' featuring the ethereal vocals of Shaz Sparks, is true testament to this.
'ANTHEMIC' is the only way to describe this slice of BIG ROOM D&B.
John's razor sharp production is musically monstrous as always, while Shaz's voice lends an other-worldly essence to the proceedings. Next up is Johns's Deep House, mix which slows everything down but keeps the vibe large. Then lastly the package comes with a 'Live Mix' for your listening pleasure.
Available now as a free download from John B's soundcloud page we present his new track "Electricity". A powerful, politically-charged comment on society, status, government, big business, police, corruption. And electro.
Featuring comments from Russell Brand during his appearance on BBC Question time last year & a hard-hitting video with archive footage of the protests in London & America, big business, media-propoganda, wealth & poverty.
This is not easy-listening, meaningless, throw-away Drum & Bass. This is a reaction against Bottle Service firework EDM excess & brainwashed hashtag self-obsession, inequality & opression. Serious music, serious issues & serious Bass.
Video edited by John B using archived news footage & shots from 'Hands up Don't Shoot' by Eric Rodriguez..
Back with an exciting return after an extended break from the podcast (during which John got married, went on Honeymoon, did Miami WMC, US Tourdates AND rebuilt his studio & started work on a new album!!!!).
Over the course of almost 2 1/2 hours and 44 tracks, John B takes you on a complex & carefully thought-out journey from the soulful, liquid side of things, technical, neurofunk breaks to high energy dancefloor D&B beasts! Deeper, darker headz vibes follow and then build up to a hands-in-the-air peak crescendo – proving why John B continues to be a crucial ambassador for Drum & Bass and important DJ on the worldwide touring scene.
It's an amazing time for Drum & Bass right now, with so much wonderful music about from all subgenres and this is a mix to celebrate them all!
John B DJ Booking Enquiries (Worldwide): [email protected]
North American DJ Bookings: [email protected]
Russia/CIS DJ Bookings: [email protected]
Tracklist
***Tyrion vs Joffrey Intro***
1. Origin – Keeno
2. Origin Source – Nelver
3. Echo – Techture
4. Firebox – BCee
5. Journey – Locuzzed
6. Substorm – Isee
7. Tandem – Emperor
***Take My Gun From Me***
8. I Need More – Misanthrop
9. Pop It Off (feat. Mad Hed City) – The Prototypes
10. April Fools – TC
11. Mistakes (DC Breaks Remix) – Eelke Kleijn
12. Timelapse – Friction Vs Metrik
13. Temperament – Subsonik
14. Human Error (feat. Break) – DLR
15. Blame You ft. Zoe Klinck (Ivy Lab Remix) – Mefjus
16. Reptilians – Noisia, Hybris, Mefjus
17. Harbour – Loxy & Overlook
18. Tremor – Falling Skies
19. Mosquito – Digital & Spirit
20. Black Meat – Signs
21. Curfew – Friction Vs Ulterior Motive
22. The Collossus – John B
23. Duel – HLZ
24. Kemistry Grooverider VIP (2015 Remaster) – Goldie
25. Rejection – Digital
26. Concrete – Calibre
27. Future (Calibre Remix) – Breakage
28. Walk the Same Lines feat Riya – Total Science
29. Cumulous – Deskai
30. Begins With You feat. S.P.Y – BCee
31. Manta – Bensley
32. Take Me Higher – NCT
33. Fuck Da Bullshit – P.A.
34. Glow Worm – Matrix & Futurebound
35. Can't Stop Playing (Cyantific Remix) – Dr. Kucho! & Gregor Salto ft. Ane Brun
36. Raga (TC Remix) – Astronaut vs. Barely Alive
37. Memories – Drumsound & Bassline Smith ***Up all night acapella #arps VIP***
38. Damages – John B ft. Shaz Sparks
39. Strange Heart – Spor
40. Affinity – Phil Tangent
41. All Over The World (I See MONSTAS Remix) – Above & Beyond feat. Alex Vargas
42. Fandango – Bensley
43. Some Chords (Cyantific remix) – Deadmau5
44. Renegade Snares (High Contrast Remix) – Omni Trio ***IN MEMORY OF GARY GOGGLES***
LINK FOR DIRECT DOWNLOAD OF MP3: http://podcast.johnbpodcast.com/content/JohnBPodcast157.mp3