Taken from the John B Blog:
These are from a while back but I hadn't got round to posting them up until now – thanks to all the photographers that sent me their galleries! You can see the whole lot on my flickr gallery if you click here and as usual they're all up on myspace and facebook too.
Taken from the John B Blog:
More photos! This lot are from my gig a couple of weeks back in Ulm, Germany for the Nu Noize party – where I was invited over to play a 4/4 ElectroTechnoRoboPunk80sWhateverTheFeCKILike set – as opposed to DNB… 😉
As you can see, it was rammed, hot, and disco-tastic! Thanks to all the fabulous people that came down and robotixed it out!
You can check out the whole gallery on my flickr, myspace AND facebook. If I could post galleries on Twitter they'd be on there too baby (FOLLOW ME!).
We're proud to announce the launch of our brand new webstore at www.beta-store.com
Thanks to the amazing skills of our new web designer genius Mike @ bozboz.co.uk and Trickartt at www.trickartt.com and a lot of blood, sweat and tears in the Beta Recordings office AND several million hours climbing around in the loft going through all our back catalogue and checking stock levels – we're finally there!
The new webstore has a much better system for dealing with digital downloads, we sell bundles now too which is great for albums, and we're planning on putting up some previously unavailable stuff too – like John's first album, 'Visions' and a previously very limited USA only release of 'Brainstorm' – plus lots more classics, remastered & remixed – but more on that later.
We've also massively improved the shipping system – every item has its weight recorded, so when you check out all you have to do is tell us which country you live in, the webstore works out the total weight of everything you ordered and then calculates the correct shipping, so no more searching for the right shipping option in a huge list, and no more accidental overcharging or any of that rubbish! Lovely!
We've got loads of back catalogue up now, (if it's displayed on the site then we have it in stock!) – and some really cool new stuff coming in time for Christmas too (did someone say JOHN B SNOWGLOBES!? haha!)
So go check out www.beta-store.com right now and bag yourself some electropunkrobotikDrum&Bass – mp3s are only 89p!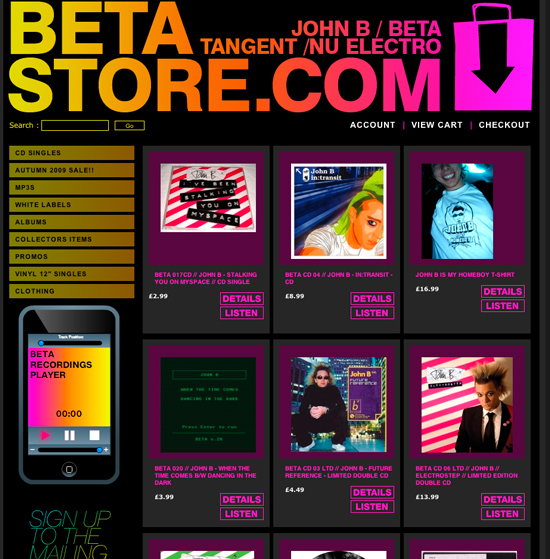 Click here for more info about the party and where to buy tickets.