Director Aaron Fairooz has been a fan of John B for over a decade. He decided to take his skills and resources and combine them with the groovy sounds of John B's song "American Girls" (originally released in 2002) to create this 80's inspired music/fashion video.
The video celebrates the carefree nature of an attractive young American girl while also exaggerating sexuality, excess and entertainment.
Available to stream/download on John B 'Brainstorm (18th Anniversary Edition)' at http://jhnb.me/Brainstorm
Directed & Produced by: Aaron Fairooz http://www.fairoozimaging.com https://www.instagram.com/fairooz_ima…
Model: Rouge Apker https://www.instagram.com/rougeapker/
Hair & Make Up: Kelsey Ikeler https://www.instagram.com/varietyjones_/ http://www.kelseyikeler.com
First Assistant Director: Ale Bonilla https://www.instagram.com/alehairninja/ http://www.esotericastudiosusa.com
VIDEO DIRECTED & EDITED BY JOHN B
Stream/Download on Spotify/Apple Music etc: https://fanlink.to/GetStuffed
Merch & Download: https://www.beta-store.com/collections/get-stuffed
LIMITED EDITION T-SHIRT & DOWNLOAD BUNDLE:
https://www.beta-store.com/products/approaching-zero-t-shirt-bundle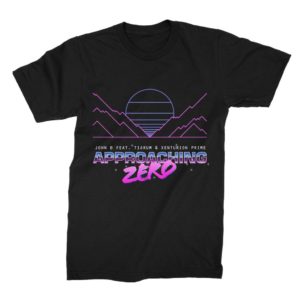 CLICK HERE to Download mp3 or WAV direct from our webstore
BUY/STREAM LINKS for Apple Music / Spotify etc:
https://fanlink.to/BETA055
"Hello again, it's good to see you…"
Beta Recordings Space-Captain, Retro-Synth-80s connoisseur and flagrant rule shredder John B touches down in his drop-ship from a stacked touring schedule with a genuinely singular piece of work: 'Approaching Zero'.
Over a year in the making, conducting and fusing the creative compositional skills of Russian multi-instrumentalist (& professional drone cameraman) Tairum and longstanding vocal cohort Xenturion Prime (FKA Code64), 'Approaching Zero' is the culmination of all John's signature muses: Stark futurism, 23rd century romanticism, time travel paradoxes, lavish 80s aesthetics and dancefloor theatrics, all wrapped up tightly in a neon glowing contemporary D&B production pressure cooker.
It's a quintessential example of the Synthwave/Epic-Retro-80s influenced Drum & Bass John has been honing and pioneering for over the last 15 years.
Galvanised by Bjorn from Xenturion Prime's vocals alluding to meeting your past self in the future, approaching end of life (and mildly chiding the loudness war stormtroopers with its 0RMS double entendre) 'Approaching Zero' shines an entirely different light on typical songwrit- ing trends in Drum & Bass and expresses John's love for all things 80s to the very detail.
From his own VHS-era 80s Sci-Fi cyber art video to the unique unplugged version that strips the song back to its chords and acoustic guitar, this is the future 'synthwave' inspired D&B sound of John B that the past John B has been focused on since he championed his own distinctive 'Trance and Bass' direction with his infamous (now highly collectable) 'Trance & Bass' Mixmag cover CD many moons ago.
Will this be his legacy? See you at the edge of the universe….
JOHN B & WRECKAGE MACHINERY: Download "Omega Racer" here:
Beta Recordings Webstore: http://jhnb.me/2p9CHGB
Spotify: http://jhnb.me/2FMA87y
Apple Music: http://jhnb.me/2p8tIp6
Beatport: http://jhnb.me/2p9H0lq
Credit to BEEPLE for the awesome graphics!
Destination future: John B ignites another big year with 'Omega Racer'. A surging return to his epic synthwave/D&B Hybrid sound with pure positivity and energy, whether you're looking to uplift your dancefloor or hunting replicants, this is the perfect soundtrack.
The latest in an exciting new line of talent to feature on Beta this year including Hectix, Specialist Sound and Melotronics, 'Omega Racer' is the result of a rough demo sent to Beta HQ by young Austrian artist Wreckage Machine. Instantly hearing promise in the demo, John jumped on board and navigated the track towards the most euphoric pastures possible with a knowing sense of futuristic timelessness: A crystalline blast of pure synthesis powered with precision levels of barbed elation, this builds on the trance and bass sound John's been sculpting for most of his career.
The sound of an open road into an unknown future – landing amid b2b US tours, forthcoming collaborations with Digital and Code 64, an appearance on Hospital's 'Sick Music' album and an in-demand festival season on the horizon – 'Omega Racer' marks the start of another busy year for the long-standing innovator and his imprint. Buckle up.
Check out John's set from the Viper: 100 Live Stream at DJ Mag HQ in London!
Another exciting adventure this weekend, John B off to DJ at Magazinkeller in Bremen, Germany!
Let us know what you think in the comments below and please SUBSCRIBE! Thanks! 🙂
Episode 2 of the new series of John B tour videos!
This time our hero flies out on another epic mission to the USA for the weekend. First, Washington DC on the same day as Trump's inauguration and then on to Los Angeles to play at legendary club Union!
Let us know what you think in the comments below and please give us a thumbs up and subscribe to the channel!
Welcome to the first of a new series of travel vlogs from Drum & Bass DJ John B as he travels the globe & DJs at some of the best parties in the world!
Filmed & edited by John B. Additional club video thanks to Hanz-Cris Loime
Download here:
Beta Recordings store: http://jhnb.me/EVLV01
Apple Music: http://www.smarturl.it/BETA050
Spotify: http://jhnb.me/EVLV1Sptfy
Beatport: http://jhnb.me/EVLVv1bt
Beta Recordings' 50th release and the beginning of a new chapter for Label owner John B.
Evolve is an exciting new project, musically & conceptually, from John B. A consistent series of new releases, reliably out every month, a new musical direction, the rebranding of the John B Podcast to 'Evolve Radio', and a futuristic touring concept & a compilation mix series to come.
Moving away from the traditional cycle of artist albums – long periods of quiet, then sudden push to promote one album, followed by silence again, this will mean a faster cycle from track completion to release, and steadier stream of adventurous, new music, continuously and regularly released – the vibe, awareness & promotion will develop organically as the project progresses.
Fusing the influence of mature, uplifting, progressive electronic music with the power, energy & surgical production values of Neurofunk & big-room Epic Drum & Bass, but still looking back and referencing his roots, John B's sound is Evolving once more. Think Pryda vs Noisia, Jean Michelle Jarre vs DLR, Vangelis vs Hybris. Huge evolving arpeggios & uplifting yet restrained soundscapes contrasting with the tight drums & unstoppable force of modern electronic Drum & Bass. This is the mission statement.
The first track in this continuing series itself is entitled 'Evolve' and features speech & vocals contributed by fans from all over the world. A long, unfolding epic, morphing intro slowly builds into a tight, simple drop cutting straight through to the dancefloor, twists & develops further into a second drop where mangled reece basslines emerge from the depths and take things to the next level. A perfect release to set the bar high & begin an exciting new journey…
Post originally from the John B Blog:
My EP on Headz is out now – buy links are below, along with audio previews and the official Video for LAVA which I'm proud to say I edited myself! I've been slowly learning a few new tricks in Final Cut X – (a far cry from the random tour videos I used to just edit on iMovie back in the day) I think this came out pretty well!
Anyway – here's the PR blurb and a couple of reviews we got, including a 10/10 in Mixmag and 'Single Of The Month'! Not bad!
"It's been a while since John B graced the skull with the headphones. Across his career he has released genre defining music. His tracks on Prototype are revered and we don't even need to comment on his contributions to the Headz catalogue, but that's all in the past- its 2016 and he has a new agenda to set. These tracks are exactly what you would want from John B on Metalheadz. One side has drama, one side has soul. It's a welcome return for a missed team member."
BUY LINKS:
Vinyl & Digital – Metalheadz Store: shop.metalheadz.co.uk/vinyl/meta039
Apple Music/iTunes: CLICK HERE
Beatport: CLICK HERE
Juno review (Click here to read in full):
"It's been years since John B last fronted a Headz release – 15 to be precise – but there is no other label these three tracks would be more at home on. Techstepping back to his earliest visions, "Lava" is a straight up spring back to 1998 in new trainers. Stark, grimy and heads-down, it pays homage to one of drum & bass's most innovative eras. "Lie To Me" reminds us of John's inability to sit still creatively with the jazzy, almost "Brand New Funk" style dynamics of "Lie To Me". Finally we hit "The Colossus". One of John's secret weapons since Sun & Bass 2015, it's an ugly piece of uncompromised machine funk with all the bass groans and cymbal splashing you could ever ask for. Arguably John's best release this decade."