Brand new photo set taken from the John B show at Club Diesel in Budapest, Hungary on Saturday. Video and audio recording of the set will be posted soon too!
Photos taken from pulzar.hu & soundhead.hu with thanks!
You can see the whole set on John B's flickr page here, or a full page slideshow by clicking here.
http://www.halle02.de/programm/termin/2008/oktober/royal-rumbles-halloween-fever.html
Freitag, 31. Oktober 2008
Beginn: 22.00h
15 EUR
Royal Rumble's Halloween Fever Pt.5 mit John B, Fresh, Bailey, MC Rage, MC Juiceman uva
Halle 02: Drum´n´Bass
JOHN B (Metalheadz & Beta Rec.)
FRESH (Breakbeat Kaoz Rec.)
BAILEY (Metalheadz Rec.)
MC RAGE (Metalheadz Rec.)
MC JUICEMAN (Raveology, Global Gathering)
JAN SIRUP (Royal Rumble)
MC SINISTA (RudeBwoy Business)
Are you ready for more music? It´s time for "HALLOWEEN FEVER" Part 5!
Die Eventreihe "HALLOWEEN FEVER" geht in die 5. Runde! Wie in den letzten Jahren ist auch am Freitag den 31.10.08 (Sa. 01.11.08 ist ein Feiertag) der Name Programm!
Im letzten Jahr rockten Adam F, Doc Scott, Probe, MC Youngman & MC Justyce die Halle 02! Dieses Jahr ist das Booking noch exklusiver als in den Jahren davor! Wir sind stolz, die Top Acts der Szene nach Heidelberg bringen zu können! Kein Geringerer als Top Produzent & DJ "FRESH" wird sich die Ehre geben um die Halle Crowd zu rocken! FRESH ist durch seine unzähligen Top Hits wie z.B. "X-Project" & "Submarines" in der Drum´n´Bass Szene jedem ein Begriff. Sein Label Breakbeat Kaos gehört zu einem der Top Labels überhaupt.
Als weiteren exklusiven DJ dürfen wir "JOHN B" von Beta Rec. begrüßen. JOHN B wird an diesem Abend zum erstmal in Heidelberg spielen, seine Sets stehen für den ganz besonderen D´n´B Sound!
Dazu kommt noch eines der Aushängeschilder von Metalheadz "DJ BAILEY"! Er hat in diesem Jahr schon die Innovation am Easter Sunday gerockt bis zum bitteren Ende!
Am Mic werden die Veteranen MC RAGE von Metalheadz Rec. sowie MC Juiceman von der Raveology Crew die DJ´s mit Ihren unglaublichen Lyrics unterstützen.
Als Local Heros werden "JAN SIRUP" & "MC SINISTA" ihr besonderes Können unter Beweis stellen.
Abwechslung ist an diesem Abend garantiert – für die jungen und für die alten Hasen.
Los geht´s um 22.00 Uhr – die Tickets kosten 15,-€ an der Abendkasse.
Somit steht einem heißen Start in den Party Herbst ´08 nichts mehr im Wege..
http://www.pulzar.hu/modules.php?name=News&file=article&sid=7412
Fellépnek: JOHN B (Beta recordings, UK), Jade & Matt-u (Citrus, Black Sun Empire), Danny Darko (Weekandbass), Elf (ImpulseCreator)
2008. október 25., Club Diesel – Budapest, X. kerület, Népliget – a Planetárium mellett
Belépő: 2000 / 2500 Ft
Elővétel: Akt Records /Budapest, IX. kerület, Üllői út 51./
Infoline: 06304604161
Fellépnek:
JOHN B (Beta recordings, UK)
Jade & Matt-u (Citrus, Black Sun Empire)
Danny Darko (Weekandbass) Elf (ImpulseCreator)
kisterem:
Szab (Carbothornic)
Bergi (Monkey6)
Svindler (Monkey6)
Max Factor (Monkey6)
Web:
www.myspace.com/johnbbeta
www.john-b.com
Courtesty of goodnight.dn.ua we've got some great photos from John B's headline ElectroTechno set in Donetsk, Ukraine last month.
You can see the whole set on John B's Flickr page here:
 
http://www.facebook.com/event.php?eid=28510091901&ref=ts
Essence of Chi & Chi-Qui present:Â 
MC LowQui's Au Revoir Review 
I'm emigrating to Australia, so to say "au revoir" in the way I know best, I've invited some of my favourite DJ's and MC's down to have a leaving party! 
It's taking place at the birth place of Essence of Chi, the fabulous Plan B in Brixton. 
I would love to see all my friends & everyone who has partied with me over the years on the dancefloor. 
All proceeds go to Macmillan Cancer Support. 
See you there…Â 
Love LowQui 
Room 1 – Drum & Bass 
Fabio
Goldie b2b Storm 
dBridge b2b Commix 
Dom & Roland b2b Klute 
Bailey b2b A-Sides (JUNGLE SET), 
Artificial Intelligence b2b TC1Â 
Sabre B2b Alix Perez 
Subterra b2b Healing Crew 
Room 2 – Dubstep / Techno / Electro / House / Hip Hop 
Doc Scott (Techno)Â 
Marcus Intalex (Techno)
John B (electro)Â 
Skream (Dubstep)Â 
Nookie (Old Skool House)Â 
Zero T (Hip Hop)Â 
Craggz (House)Â 
DJ J (House)Â 
With Stu on Sax 
Hosts passing through…Â 
Stamina MC, DRS, SP:MC, Five Alive, Darrison, 2Shy, Deeizm, Kemo, Ken Mac, Miss Trouble, Master X, K-eye, Sense, Bassline, Fozz, LowQui 
Plan BÂ 
418 Brixton Road 
London SW9 7AYÂ 
Thursday 16th October 2008. 
9pm to 5am. 
£5 entry, no guestlist as its for charity! 
SOUNDSYSTEM POWERED BY FUNKTION ONE ACROSS BOTH ARENASÂ 
Dress Code: Hats & Wigs, Fancy dress & anything goes. 
To guarantee entry we suggest purchasing tickets:
http://www.ticketweb.co.uk/user/?region=xxx&query=schedule&promoter=essenceofchi 
www.lowqui.com 
www.essenceofchi.co.uk 
www.myspace.com/lowqui 
www.audiorelief.co.uk 
www.rocketsciencemedia.com
John B on tour in Russia again, this time an outdoor party in Donoskoy city, about 2 hours drive from Moscow. All would have been well if it had not been foiled by the mighty badass weather – huuggge thunderstorms – thus not many ravers, but those that remained were… dedicated to say the least… Plus music video at the end for John B's Remix of Glamour for better…

John B in Donoskoy City from John B on Vimeo.
Tour Video from John B on tour in Romania, Djing on the Kiss Stage at the Felsziget Festival in Targu Mures, Transylvania in July 2008
Watch out for the amazing SIDEBOOB – and special preview of the new John B single 'Dancing in the Dark' at the end…

John B @ Felsziget Festival, Romania July 2008 from John B on Vimeo.
"Video of my trip to Kaliningrad in Russia – some seriously traumatic Polish/Russian border experience – never witnessed such a slow, badly organised system in my life… Good gigs though – just too much time waiting around and sitting in cars & vans though…"

John B in Kaliningrad & SMS Festival 2006 from John B on Vimeo.
John B
Red Sky/Mr Freud (Beta)
"Hands in the air Magic"
A few years back Mixmag's cover CD 'Trance & Bass' became one of our most popular ever, its sucess down to John B's beleif that jungle, trance and electro can work together. His new 12″ is pure trancey D&B gold, with tight production, breakdowns dripping with euphoric sparkliness & drops as heavy as anything from Ram Records. A unique sound from a real Maverick. 4/5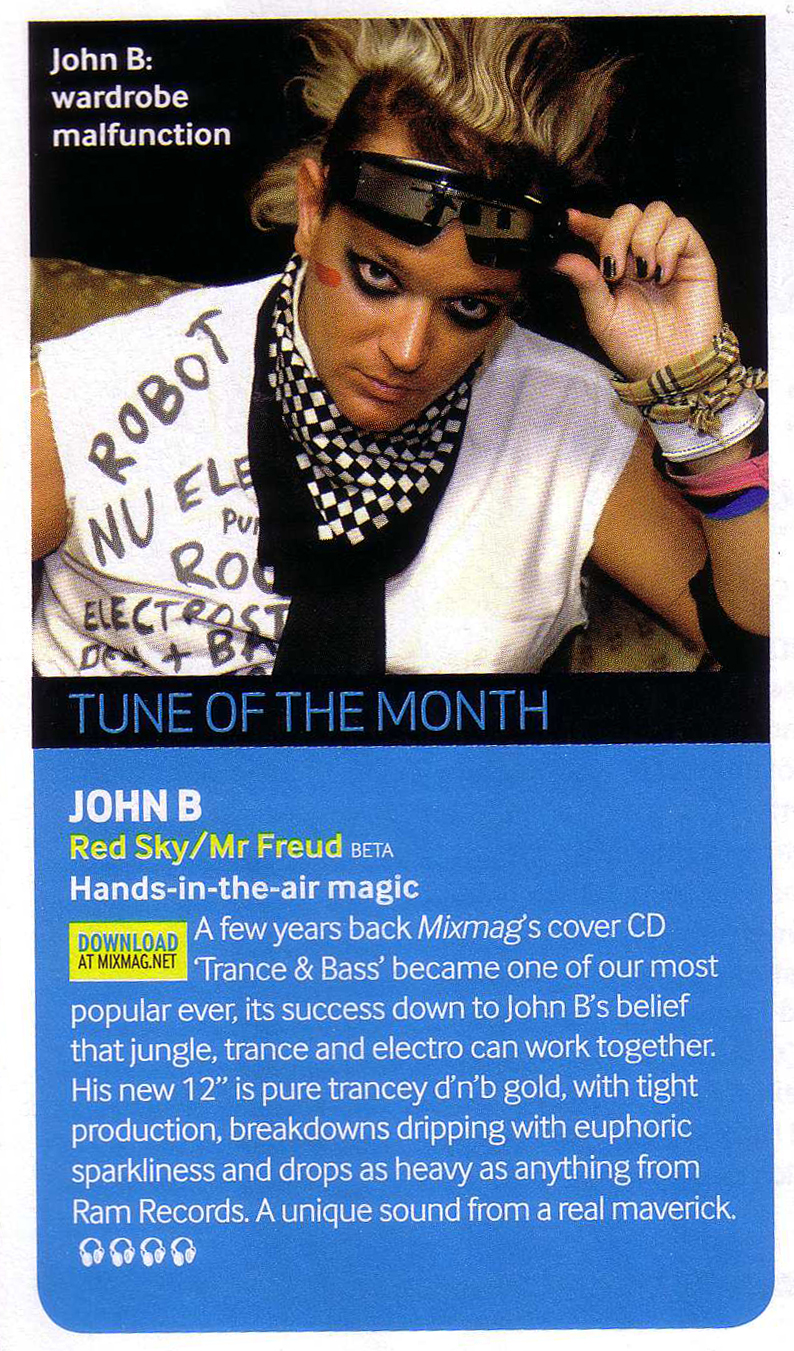 CLICK HERE TO BUY VINYL
CLICK HERE TO BUY MP3s
Mr. Freud & Red Sky are also available on
, Beatport.com, Trackitdown.net & your friendly local record store…