Tourdates Overview:
18/03/2011 > I <3 DUBSTEP & ELECTRO [12:15-1:30am Electro/Alternative Set]
Middle East Downstairs, Boston, MA, USA
http://www.facebook.com/event.php?eid=128984280508855
19/03/2011 > Club Therapy [2-3:30am D&B Set]
Providence, RI, USA
http://www.facebook.com/event.php?eid=132681826801561
24/03/2011 > Metalheadz
Mecca, 950 NE 2nd Ave, Miami, FL, USA
http://www.facebook.com/event.php?eid=177973092237766
25/03/2011 > Hospitality
Club Eve (Formerly The White Room), 1306 North Miami Avenue, Miami, FL, USA
http://www.hospitalitydnb.com/2011/03/hospitality-miami/
26/03/2011 > Dub Nation
Club Eve, 1306 North Miami Avenue, Miami, FL, USA
www.miamieve.com/events/dub-nation/
27/03/2011 > Blue Note Sessions
Vagabond, 30 Northeast 14th Street, Miami, FL, USA
Flyers:
FRIDAY 18th MARCH: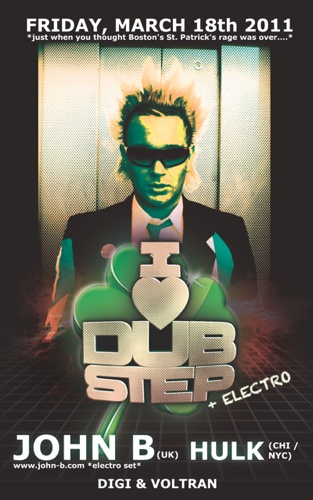 SATURDAY 19th MARCH: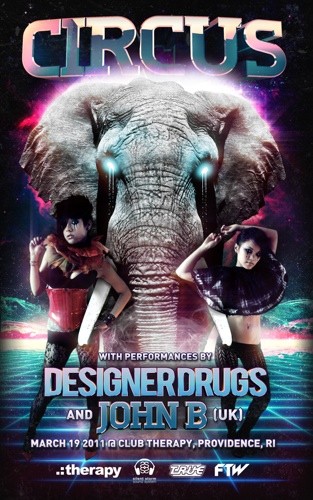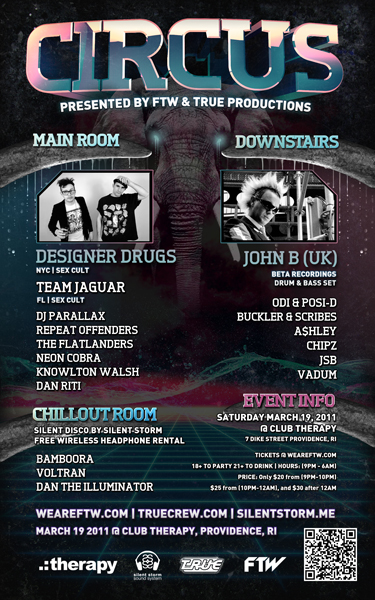 THURSDAY 24th MARCH: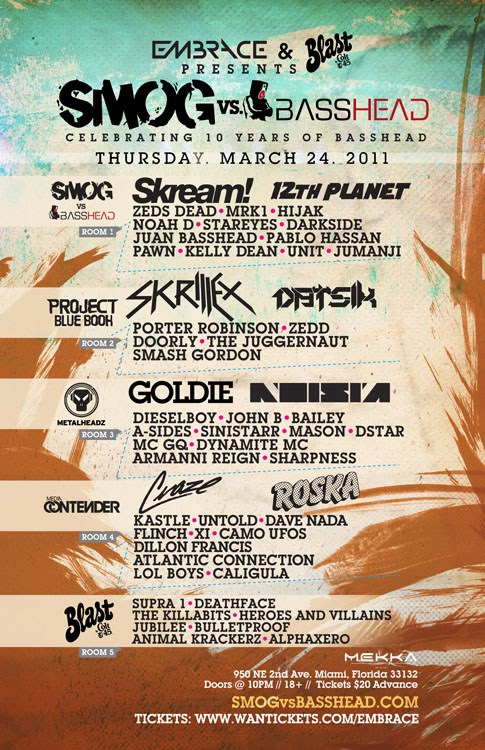 FRIDAY 25th MARCH: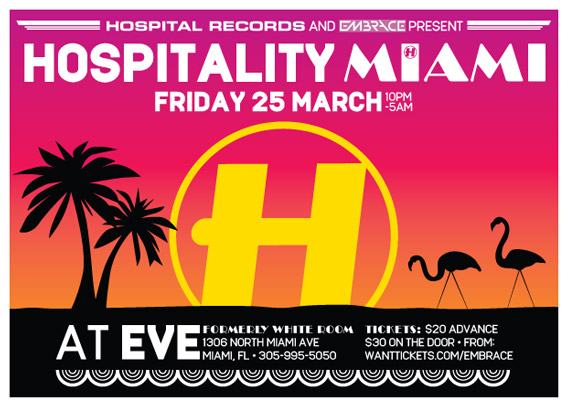 SATURDAY 26th MARCH: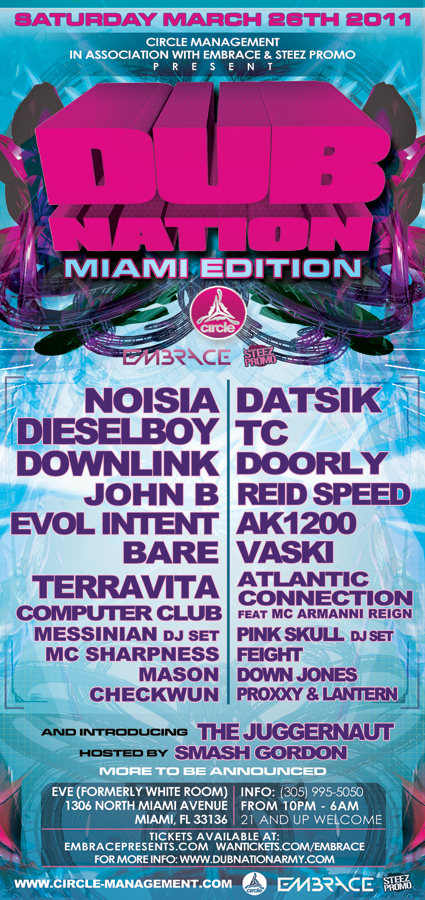 SUNDAY 27th MARCH
[Flyer Artwork to follow]
Click here for more info about the party and where to buy tickets.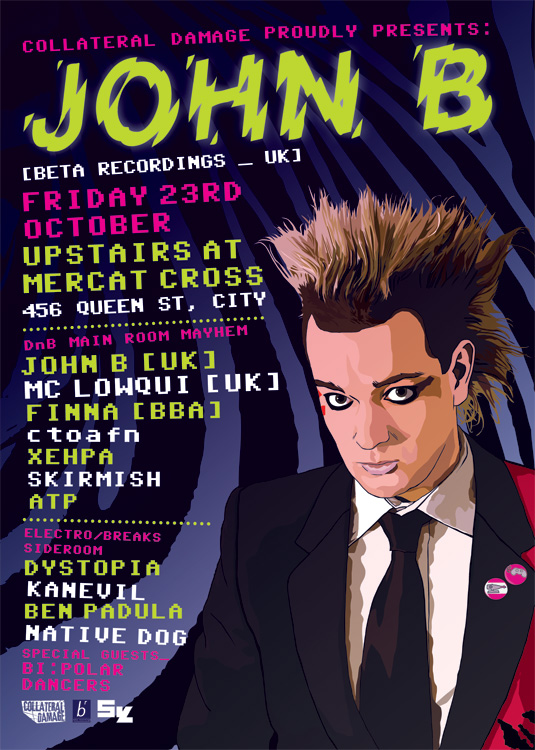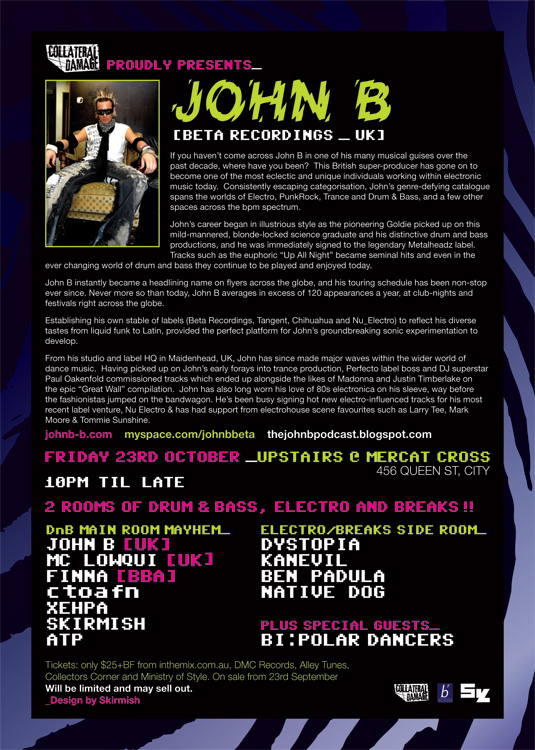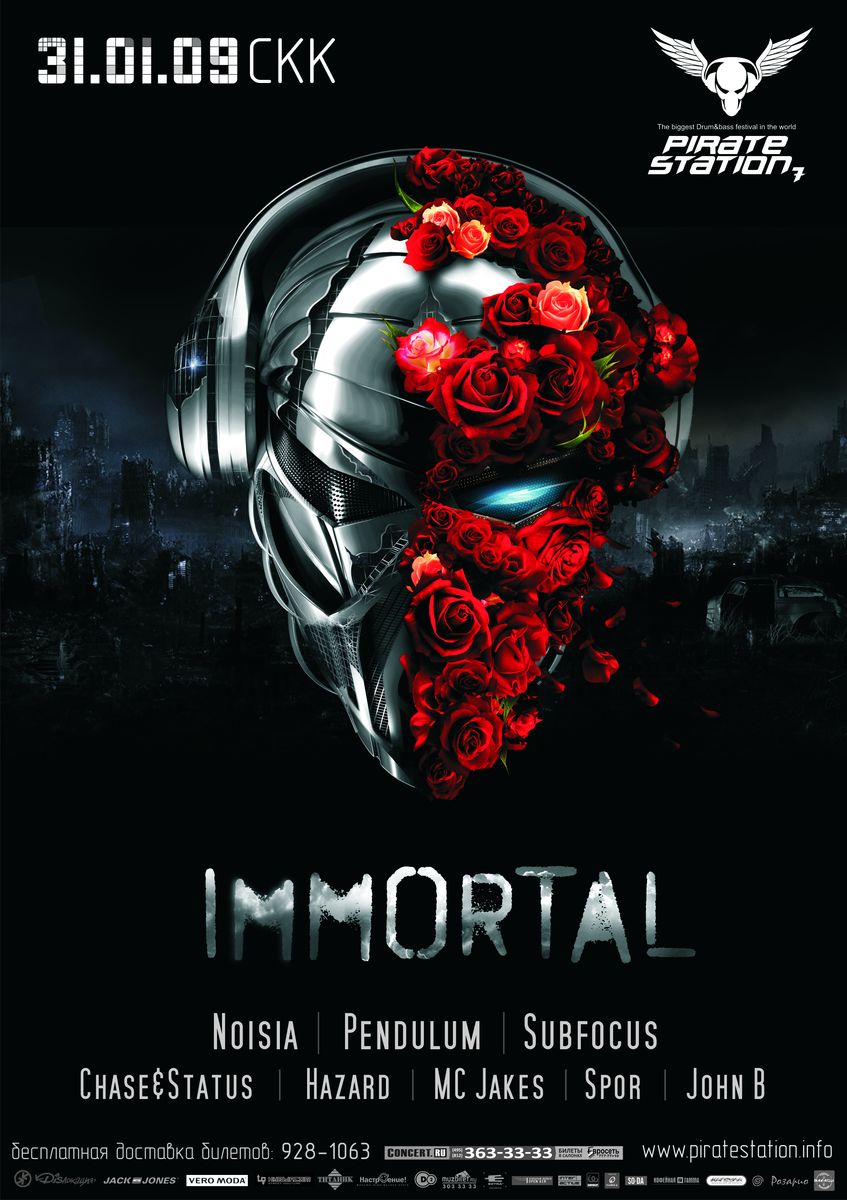 http://www.piratestation.info/
Pirate Station 2009
LINE-UP
MAIN:
Noisia (NL)
Pendulum (DJ set) (UK)
Subfocus (UK)
John B (UK)
Hazard (UK)
Spor (UK)
Chase & Status (UK)
MC Jakes (UK)
Gvozd
Toper
Blackman
DE LUXE:
Gvozd
Profit
Posh
Art
007
Blasta
INFOS
@ СКК Петербургский
Гагарина, д. 8 – SAINT-PETERSBOURG, RUSSIE
De 22:00 Ã  06:00
Prix : 800 rub.
Electric Emotion presents beyond 160 Drum&Bass at its finest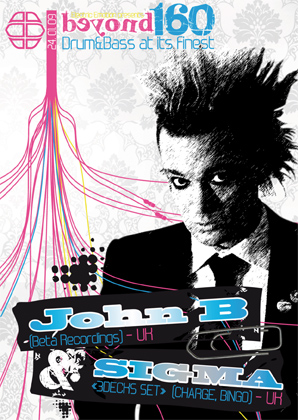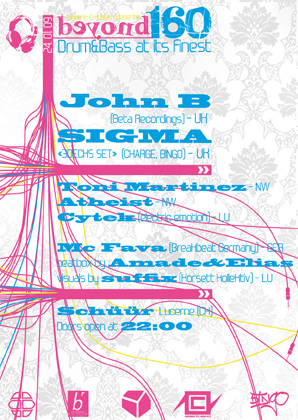 http://www.myspace.com/electricemotionevents
John B – UK (Beta Recordings)
Sigma – UK (Bingo / Full Cycle) – 3 deck set
MC Fava – GER (Breakbeat Movement)
More to be announced
Entrance fee CHF 20.-
Doors: 22:00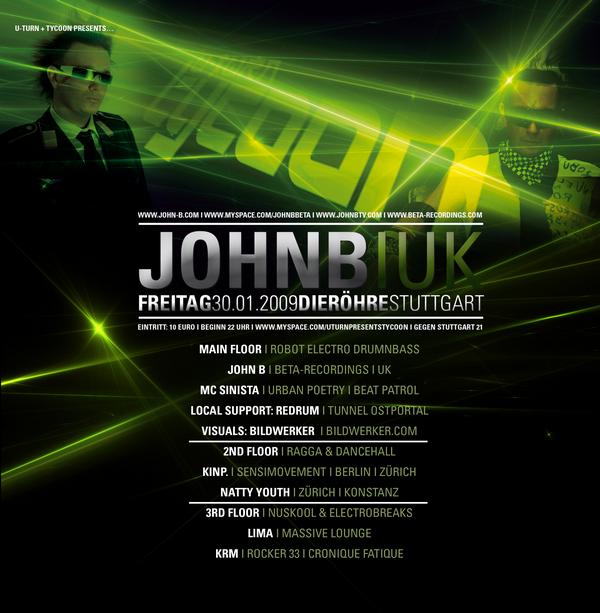 http://www.myspace.com/uturnpresentstycoon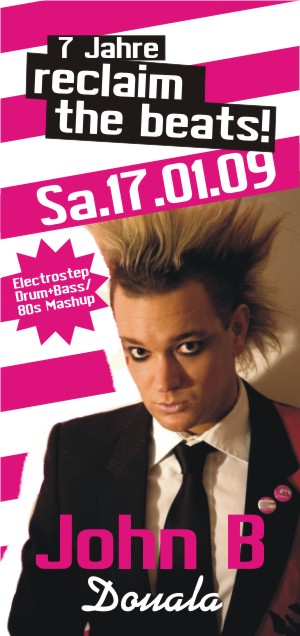 http://www.myspace.com/reclaimthebeats
Reclaim the Beats! – der Drum&Bass-Club im Douala Ravensburg seit 2002. Partybilder, Infos und Freikartenverlosung auf www.bodenseebass.com
http://www.halle02.de/programm/termin/2008/oktober/royal-rumbles-halloween-fever.html
Freitag, 31. Oktober 2008
Beginn: 22.00h
15 EUR
Royal Rumble's Halloween Fever Pt.5 mit John B, Fresh, Bailey, MC Rage, MC Juiceman uva
Halle 02: Drum´n´Bass
JOHN B (Metalheadz & Beta Rec.)
FRESH (Breakbeat Kaoz Rec.)
BAILEY (Metalheadz Rec.)
MC RAGE (Metalheadz Rec.)
MC JUICEMAN (Raveology, Global Gathering)
JAN SIRUP (Royal Rumble)
MC SINISTA (RudeBwoy Business)
Are you ready for more music? It´s time for "HALLOWEEN FEVER" Part 5!
Die Eventreihe "HALLOWEEN FEVER" geht in die 5. Runde! Wie in den letzten Jahren ist auch am Freitag den 31.10.08 (Sa. 01.11.08 ist ein Feiertag) der Name Programm!
Im letzten Jahr rockten Adam F, Doc Scott, Probe, MC Youngman & MC Justyce die Halle 02! Dieses Jahr ist das Booking noch exklusiver als in den Jahren davor! Wir sind stolz, die Top Acts der Szene nach Heidelberg bringen zu können! Kein Geringerer als Top Produzent & DJ "FRESH" wird sich die Ehre geben um die Halle Crowd zu rocken! FRESH ist durch seine unzähligen Top Hits wie z.B. "X-Project" & "Submarines" in der Drum´n´Bass Szene jedem ein Begriff. Sein Label Breakbeat Kaos gehört zu einem der Top Labels überhaupt.
Als weiteren exklusiven DJ dürfen wir "JOHN B" von Beta Rec. begrüßen. JOHN B wird an diesem Abend zum erstmal in Heidelberg spielen, seine Sets stehen für den ganz besonderen D´n´B Sound!
Dazu kommt noch eines der Aushängeschilder von Metalheadz "DJ BAILEY"! Er hat in diesem Jahr schon die Innovation am Easter Sunday gerockt bis zum bitteren Ende!
Am Mic werden die Veteranen MC RAGE von Metalheadz Rec. sowie MC Juiceman von der Raveology Crew die DJ´s mit Ihren unglaublichen Lyrics unterstützen.
Als Local Heros werden "JAN SIRUP" & "MC SINISTA" ihr besonderes Können unter Beweis stellen.
Abwechslung ist an diesem Abend garantiert – für die jungen und für die alten Hasen.
Los geht´s um 22.00 Uhr – die Tickets kosten 15,-€ an der Abendkasse.
Somit steht einem heißen Start in den Party Herbst ´08 nichts mehr im Wege..
http://www.pulzar.hu/modules.php?name=News&file=article&sid=7412
Fellépnek: JOHN B (Beta recordings, UK), Jade & Matt-u (Citrus, Black Sun Empire), Danny Darko (Weekandbass), Elf (ImpulseCreator)
2008. október 25., Club Diesel – Budapest, X. kerület, Népliget – a Planetárium mellett
Belépő: 2000 / 2500 Ft
Elővétel: Akt Records /Budapest, IX. kerület, Üllői út 51./
Infoline: 06304604161
Fellépnek:
JOHN B (Beta recordings, UK)
Jade & Matt-u (Citrus, Black Sun Empire)
Danny Darko (Weekandbass) Elf (ImpulseCreator)
kisterem:
Szab (Carbothornic)
Bergi (Monkey6)
Svindler (Monkey6)
Max Factor (Monkey6)
Web:
www.myspace.com/johnbbeta
www.john-b.com
 
http://www.facebook.com/event.php?eid=28510091901&ref=ts
Essence of Chi & Chi-Qui present:Â 
MC LowQui's Au Revoir Review 
I'm emigrating to Australia, so to say "au revoir" in the way I know best, I've invited some of my favourite DJ's and MC's down to have a leaving party! 
It's taking place at the birth place of Essence of Chi, the fabulous Plan B in Brixton. 
I would love to see all my friends & everyone who has partied with me over the years on the dancefloor. 
All proceeds go to Macmillan Cancer Support. 
See you there…Â 
Love LowQui 
Room 1 – Drum & Bass 
Fabio
Goldie b2b Storm 
dBridge b2b Commix 
Dom & Roland b2b Klute 
Bailey b2b A-Sides (JUNGLE SET), 
Artificial Intelligence b2b TC1Â 
Sabre B2b Alix Perez 
Subterra b2b Healing Crew 
Room 2 – Dubstep / Techno / Electro / House / Hip Hop 
Doc Scott (Techno)Â 
Marcus Intalex (Techno)
John B (electro)Â 
Skream (Dubstep)Â 
Nookie (Old Skool House)Â 
Zero T (Hip Hop)Â 
Craggz (House)Â 
DJ J (House)Â 
With Stu on Sax 
Hosts passing through…Â 
Stamina MC, DRS, SP:MC, Five Alive, Darrison, 2Shy, Deeizm, Kemo, Ken Mac, Miss Trouble, Master X, K-eye, Sense, Bassline, Fozz, LowQui 
Plan BÂ 
418 Brixton Road 
London SW9 7AYÂ 
Thursday 16th October 2008. 
9pm to 5am. 
£5 entry, no guestlist as its for charity! 
SOUNDSYSTEM POWERED BY FUNKTION ONE ACROSS BOTH ARENASÂ 
Dress Code: Hats & Wigs, Fancy dress & anything goes. 
To guarantee entry we suggest purchasing tickets:
http://www.ticketweb.co.uk/user/?region=xxx&query=schedule&promoter=essenceofchi 
www.lowqui.com 
www.essenceofchi.co.uk 
www.myspace.com/lowqui 
www.audiorelief.co.uk 
www.rocketsciencemedia.com