LIMITED EDITION T-SHIRT & DOWNLOAD BUNDLE:
https://www.beta-store.com/products/approaching-zero-t-shirt-bundle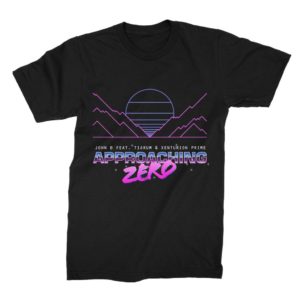 CLICK HERE to Download mp3 or WAV direct from our webstore
BUY/STREAM LINKS for Apple Music / Spotify etc:
https://fanlink.to/BETA055
"Hello again, it's good to see you…"
Beta Recordings Space-Captain, Retro-Synth-80s connoisseur and flagrant rule shredder John B touches down in his drop-ship from a stacked touring schedule with a genuinely singular piece of work: 'Approaching Zero'.
Over a year in the making, conducting and fusing the creative compositional skills of Russian multi-instrumentalist (& professional drone cameraman) Tairum and longstanding vocal cohort Xenturion Prime (FKA Code64), 'Approaching Zero' is the culmination of all John's signature muses: Stark futurism, 23rd century romanticism, time travel paradoxes, lavish 80s aesthetics and dancefloor theatrics, all wrapped up tightly in a neon glowing contemporary D&B production pressure cooker.
It's a quintessential example of the Synthwave/Epic-Retro-80s influenced Drum & Bass John has been honing and pioneering for over the last 15 years.
Galvanised by Bjorn from Xenturion Prime's vocals alluding to meeting your past self in the future, approaching end of life (and mildly chiding the loudness war stormtroopers with its 0RMS double entendre) 'Approaching Zero' shines an entirely different light on typical songwrit- ing trends in Drum & Bass and expresses John's love for all things 80s to the very detail.
From his own VHS-era 80s Sci-Fi cyber art video to the unique unplugged version that strips the song back to its chords and acoustic guitar, this is the future 'synthwave' inspired D&B sound of John B that the past John B has been focused on since he championed his own distinctive 'Trance and Bass' direction with his infamous (now highly collectable) 'Trance & Bass' Mixmag cover CD many moons ago.
Will this be his legacy? See you at the edge of the universe….
John B Live on tour in the USA with a special 'Retro' set at Mass Transit, in Fairfax, VA. Expect plenty of electrostep-era, 80s influenced D&B along with a carefully crafted selection of classics & modern dancefloor smashers!
John B DJ Booking Enquiries (Worldwide): [email protected]
North American DJ Bookings: [email protected]
Russia/CIS DJ Bookings: [email protected]
TRACKLIST:
TC – Interstellar
John B – Numbers (Camo & Krooked VIP Remix)
John B – Up All Night (Epic Mix)
John B – The Nine vs Miss Kittin vs Morning Light
Pythius – Suspect
DAF – Als Wärs Das Letzte Mal (Boys Noize Remix)
Gmorozov – Internet = Hate
Fisherspooner – Emerge (John B Remix)
Le Jardin (John B Re-Edit)
John B – Stalking You On Myspace (12″ Mix)
John B – Midnight Air 2006
John B – Robot Lover
Fatboy Slim – Right Here, Right Now (Friction One In The Jungle Remix)
Origin Unknown – Valley of The Shadows (Chase & Status Remix)
Sub Focus – X-Ray (Metrik Remix)
AKOV – Talk To Me
Castor – Emily
John B ft Robyn Chaos – Sex Dwarf
Klement – Check the Disease
New Order – Blue Monday (Razorpoint Remix)
Depeche Mode – New Life (John B Remix)
John B – American Girls 2004
John B feat. Stareyes – Take Me Home
Peace Out (John B Remix)
John B feat Marcy Meow – Tainted Love (12″ Mix)
Joy Division – Love Will Tear Us Apart (John B Remix)
John B ft. Tiarum & Xenturion Prime – Approaching Zero v2.1
Sigue Sigue Sputnik – Love Missile F111 (DnB Remix)
Secret Weapons – The Bumps (John B Re-Edit)
Billy Idol – Rebel Yell (Gmorozov remix)
Black Sun Empire ft. Belle Doron – Immersion (The Prototypes Remix)
Andromedik – Your Eyes
A-Ha – Take On Me (John B Remix)
Howard Jones – 4U C Me (John B Remix)
John B – Hey Mickey
DJ Assault – Shake It (John B Re-Edit)
DJ Assault – Ass n Titties (John B Mashup Remix)
Whoomp (John B Bootleg Remix)
TC – Pickle Rick
Dirty Sanchez – Fucking On the Dancefloor (John B Remix)
*** #RADIOEMBARGO TRACK CUT OUT ***
Rick Astley – Never Gonna Give you up (Tease lol)
Dire Staits – I Want My MTV (Danny Byrd Remix)
LINK FOR DIRECT DOWNLOAD OF MP3: http://podcast.johnbpodcast.com/content/JohnBPodcast174.mp3
John B Live at the Drum & Bass Arena Summer D&B BBQ at The Ministry of Sound in London, recorded in July 2017.
John B DJ Booking Enquiries (Worldwide): [email protected]
North American DJ Bookings: [email protected]
Russia/CIS DJ Bookings: [email protected]
LINK FOR DIRECT DOWNLOAD OF MP3: http://podcast.johnbpodcast.com/content/JohnBPodcast173.mp3
Download here:
Beta Recordings store: http://jhnb.me/EVLV01
Apple Music: http://www.smarturl.it/BETA050
Spotify: http://jhnb.me/EVLV1Sptfy
Beatport: http://jhnb.me/EVLVv1bt
Beta Recordings' 50th release and the beginning of a new chapter for Label owner John B.
Evolve is an exciting new project, musically & conceptually, from John B. A consistent series of new releases, reliably out every month, a new musical direction, the rebranding of the John B Podcast to 'Evolve Radio', and a futuristic touring concept & a compilation mix series to come.
Moving away from the traditional cycle of artist albums – long periods of quiet, then sudden push to promote one album, followed by silence again, this will mean a faster cycle from track completion to release, and steadier stream of adventurous, new music, continuously and regularly released – the vibe, awareness & promotion will develop organically as the project progresses.
Fusing the influence of mature, uplifting, progressive electronic music with the power, energy & surgical production values of Neurofunk & big-room Epic Drum & Bass, but still looking back and referencing his roots, John B's sound is Evolving once more. Think Pryda vs Noisia, Jean Michelle Jarre vs DLR, Vangelis vs Hybris. Huge evolving arpeggios & uplifting yet restrained soundscapes contrasting with the tight drums & unstoppable force of modern electronic Drum & Bass. This is the mission statement.
The first track in this continuing series itself is entitled 'Evolve' and features speech & vocals contributed by fans from all over the world. A long, unfolding epic, morphing intro slowly builds into a tight, simple drop cutting straight through to the dancefloor, twists & develops further into a second drop where mangled reece basslines emerge from the depths and take things to the next level. A perfect release to set the bar high & begin an exciting new journey…
Out Now on iTunes: http://smarturl.it/BETACD07LTD
Beatport: http://www.beatport.com/release/light-speed-deluxe-edition/1307353
Beta Recordings Store: http://www.beta-store.co.uk/product_info.php?cPath=23_38_47&products_id=511
Like John B on facebook: http://www.facebook.com/johnbbeta
Follow: http://www.twitter.com/johnbbeta
Weekly John B DnB Podcast: http://www.johnbpodcast.com
30 minute preview 'Mini-Mix' of some of the remixes you will find on the new 'Deluxe Edition' of John B's latest album 'Light Speed' – out on 9 June 2014 on iTunes, Beatport, Amazon & all digital stores.
The new 'Deluxe' Edition of John B's 2012 'Light Speed' album, now features an additional 25 remixes and 2 full length DJ mixes, one of the original tracks (different from the original CD version mix) and the second a cross-genre continuous DJ mix featuring a selection of the best remixes from the project spanning EDM, Dubstep, Techno, Electro, Trance & of course Drum & Bass.
Remixes include Metrik, Camo & Krooked, Logistics, Nu:Tone, Craig Connelly, Ost & Meyer, Terravita & more!
FULL TRACKLIST:
The Originals:
1 The Horde
2 Robot Lover
3 When The Time Comes
4 Light Speed (Extended Mix)
5 Vertigo
6 Shining In The Dark (Extended Mix)
7 Connected
8 The Journey
9 Red Sky (Acoustic Intro Version)
10 Dancing In The Dark
11 Heroes
12 Numbers (Camo & Krooked Remix)
13 Love Again
The Remixes:
1 The Journey – Acoustic Mix
2 Robot Lover – Michael Cassette Remix
3 Heroes – Ost & Meyer Remix
4 Connected – Craig Connelly Remix (Edit)
5 Dancing In The Dark – Brooklyn Hype Remix
6 Light Speed – Radio Mix
7 Robot Lover – Cute Heels Remix
8 Heroes – Rido Remix
9 Love Again – Enei Remix 2014 Remaster
10 Robot Lover – Bobby Tank Refix
11 Light Speed – Terravita Remix
12 The Journey – Metrik Remix
13 Send My Love to Mother Russia
14 Shining In The Dark – Nu:Tone Remix
15 Connected – The McMash Clan Remix
16 Love Again – Till Sunrise Mix
17 Robot Lover – Logistics Remix
18 Love Again – LX One Remix
19 Light Speed – Original Mix
20 Heroes – Subsonik Remix
21 Light Speed – L Plus Remix
22 The Journey – Reuben Keeney & Rafii Remix
23 Red Sky – Subsonik Opener Remix
24 Numbers – Original Mix
25 Red Sky – Trance Mix
26 Light Speed: Original Tracks (Continuous Mix)
27 Light Speed: The Remixes (Continuous Mix)
Buy now on Beatport
Buy now on iTunes
Buy now on the Beta Store
'Album Of The Week' (Mixmag), 'Album Of The Week' (The Independent), "The 'Drive' soundtrack with a rocket up its arse." (DJ Mag); just three of the reactions to John B's latest 'Light Speed' album from earlier in the year, a neon-soaked journey into one of the most epic drum & bass LP's of recent times.
Now the title track is about to be unleashed with a package of remixes that go beyond the norm, ready to hit all corners very hard indeed. For John's most ambitious single release yet, some of the most exciting young producers from around the world have been drawn in to offer their take on the uplifting stadium anthem 'Light Speed' featuring the vocal talents of NSG.
From the totally re-worked club house mix through to hyper-boiled drum & bass smashers and electroid dubstep, no holds have been barred and if hi-rolling drumstep is what you're after, John's even got that too. A massive dynamite release from one of electronic music's most flamboyant figureheads.
Original / Instrumental / Extended D&B Mix / Radio mix / L Plus Rmx / Illskillz Rmx / Hectix Rmx / Indivision & Cosmic Rmx / Terravita Rmx / Andy Malex Rmx / Beauty Brain & Mendez Rmx
Watch John B's tour video from Sun Gate 4 here, with a preview of Terravita's remix of 'Light Speed'!:

And finally, check out L Plus' remix of 'Light Speed' on the UKF Drum and Bass youtube channel:

Listen to all the remixes here on soundcloud
In appreciation of John B's unique drum and bass style, Cash Money Records' very own world-wide superstar, Nicki Minaj, has chosen to heavily sample John B's drum and bass hit, 'Red Sky' on her debut album 'Pink Friday' on her track "Here I am".
Minaj is best known for her own unique blend of hip hop and R&B, which saw her peak to #1 in the US charts for 'Pink Friday'. The Album also reached Platinum status (industry recognition for selling 1m albums, plus). Beta Recordings' very own John B is proud to have been a part of it!
Known for its famous heavy motorbike synth and trance piano, 'Red Sky' fits in perfectly as the backing track to Minaj's vocals in her personal song, 'Here I Am'. Listen below to hear both tracks and follow the links to buy 'Red Sky' and more tracks on John B's latest album 'Light Speed'.
John B, 'Red Sky' (Light Speed)
Buy on iTunes: http://jhnb.me/ls-itunes
Buy Signed CD Bundle: http://jhnb.me/lightspeedCD
Buy Signed 3xLP: http://jhnb.me/LightspeedLP

Nicki Minaj, 'Here I Am' (Pink Friday)

CLICK HERE To check out the microsite for the whole album, with audio clips and what the press said.
"John B personifies the more leftfield, zany side of d&b. Sporting crazy hairdos and '80s electronica-inspired eye-makeup (water/sweatproof we hope!), his gigs have become a favourite on the trans-European and worldwide DJing circuit, not least this year, where his bookings list has skyrocketed as a result of wildfire word-of-mouth recommendations on the hedonistic circuit, as well as straight d&b nights." – DJ MAG
"Light Speed is overblown and almost operatic(…)a reminder of grime's rave roots" – THE INDEPENDENT
Check out more on 'Light Speed' on its dedicated microsite here!
Buy on iTunes
Buy Signed CD Bundle
Buy Signed 3xLP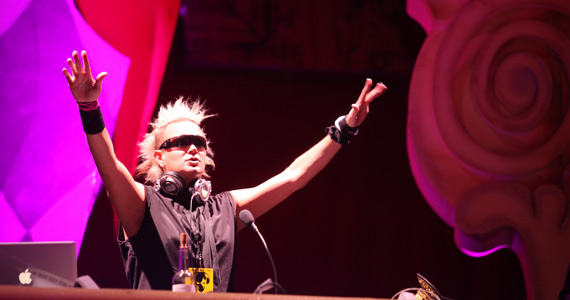 Its Novemeber, so how about some Techno?! As you may know, from time to time John B plays techno sets (when the promoters have requested it!) and usually drops in a few Techno & Electro tracks in his sets anyway, and well, apparently he just felt like doing a Techno set for the podcast – so here it is! Enjoy!
If possible please subscribe to the podcast in iTunes here – that way your iTunes will automatically download each new episode as soon as they are published.
If you hate iTunes or just don't have access to the store in your country etc – you can download the podcast directly if you click here.
Episode 90 Tracklisting:
1. // 4 My Peepz // Dubfire Rework // Paperclip People
2. // Electronic Germany // DJ Glen Remix // DJ Hell, Anthony Rother
3. // The Only One // The Hacker
4. // Body Of Eyes // Gesaffelstein Remix // Sei A
5. // ZZafrika // Gesaffelstein Remix // ZZT
6. // Deeper In The Night // Terence Fixmer
7. // Malicia feat. Sketch // Sketch, Joyce Muniz
8. // For You // Philip Bader
9. // Sky // The Hacker remix // The Human League
10. // Robot Lover // Cute Heels Remix v1 // John B
11. // La Question // Gesaffelstein
12. // Boss Rush // Shadow Dancer
13. // The Night // Terence Fixmer
14. // It's The Everything // Shadow Dancer
15. // Titelheld // Petar Dundov Remix // Extrawelt
(Photos by Kirill Kireev)
John played a special 'influences' set right by the beach at the Sun & Bass Festival in Sardinia back in September, and we got the recording! The Pinot Grigio was flowing, the sun shining, and bikinis glistening in the ocean – the mixing wasn't particularly tight, but the tunes were super-robo-electro. Pcchhheeeooowwww!
If possible please subscribe to the podcast in iTunes here – that way your iTunes will automatically download each new episode as soon as they are published.
If you hate iTunes or just don't have access to the store in your country etc – you can download the podcast directly with these links:
John B Podcast 082: Live @ Sun & Bass, Influences Set (Italo Disco & 80s) by Beta Recordings
JOHN B PODCAST 082 TRACKLIST
1. X Ray Connection // Get Ready
2. Sare Havlicek // Astronave
3. Romina Cohn // The Night
4. New Order // Bizarre Love Triangle (Extended Dance Mix)
5. Dead or Alive // You Spin Me Round (Murder Mix)
6. Fleetwood Mac // Little Lies (Extended Version)
7. Desireless // Voyage Voyage
8. Vitalic // Poison Lips
9. Yazoo // Don't Go (12" version)
10. Stacey // Two Of Hearts
11. Eurythmics // Sweet Dreams
12. Sabrina // Boys (Summertime Love)
13. DJ Hell vs. Trans X // Living on Video
14. New order // Blue Monday (Original Version)
15. A-Ha // The Sun Always Shines On TV (Extended Version)
16. Sylvester // Do Ya Wanna Funk
17. DJ's Factory // A View to Kill
18. Company B // Fascinated
19. D-Mob // We Call It Acieed (feat. Gary Haisman)
20. 808 State // Pacific 202
21. Real Life // Send Me An Angel (Extended)
22. Yazoo // Situation (Long Version)
23. Michael Sembello // Maniac
24. John B // American Girls (Synthpop Electro Mix)