John B ft. Shaz Sparks "Damages"
Buy on iTunes: http://www.smarturl.it/BETA047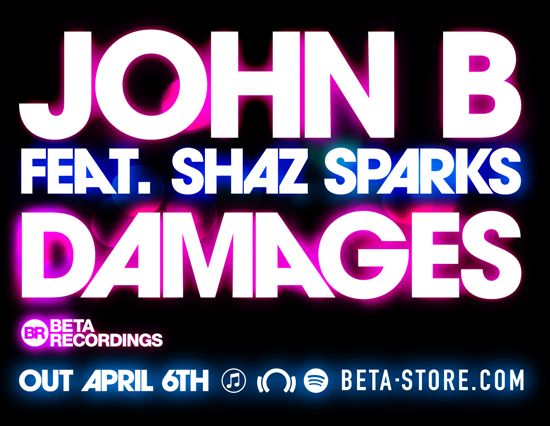 Buy on iTunes: http://www.smarturl.it/BETA047
Buy on the new Beta Recordings Webstore: Click here
Buy on Beatport: Click here
"One of D&B's few genuine global super-producers… John B really is in a league of his own… Remember John B's unique contribution to the genre". -Mixmag
John B is one of electronic music's most distinctive, creative and consistent contributors. Splicing genre DNA like a modern mad scientist. His latest offering 'Damages' featuring the ethereal vocals of Shaz Sparks, is true testament to this.
'ANTHEMIC' is the only way to describe this slice of BIG ROOM D&B.
John's razor sharp production is musically monstrous as always, while Shaz's voice lends an other-worldly essence to the proceedings. Next up is Johns's Deep House, mix which slows everything down but keeps the vibe large. Then lastly the package comes with a 'Live Mix' for your listening pleasure.