More World Tour footage from DJ John B, this time in Veliky Novgorod in Russia and Flex Club in Vienna, Austria.
You can view the video on youtube here:Â http://youtu.be/y850NdOYlb0?hd=1
To download the video for your mobile device, iphone, ipad etc then right click and 'save as' on this link
SUBSCRIBE TO THE JOHN B TV HD VIDEO PODCAST in iTunes – just CLICK HERE.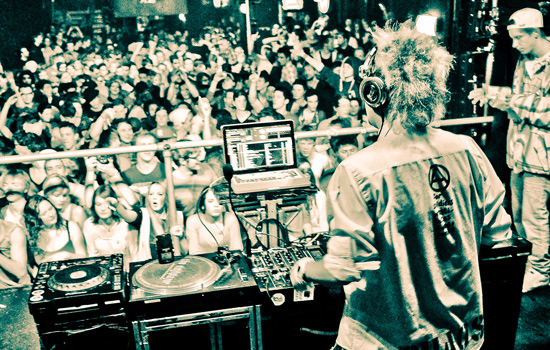 Got this one up quick! We recorded John's set in Vienna on Saturday night, live at one of the best DnB venues in the city, Flex – and here it is! The sound quality is more of a location recording, we used a new mini-recorder with microphones that get the crowd noise too, so we hope you get the atmosphere…
If possible please subscribe to the podcast in iTunes here – that way your iTunes will automatically download each new episode as soon as they are published.
If you hate iTunes or just don't have access to the store in your country etc – you can download the podcast directly if you click here.
You can see photos from the event on John B's facebook page here:
Tiefenrausch Photography Gallery CLICK HERE FOR PHOTOS
Dennis Bora's Gallery CLICK HERE FOR PHOTOS
Episode 91 Tracklisting:
1. EPIC TRON B INTRO
2. Camo & Krooked // Run Riot (Hospital)
3. Metrik // Freefall
4. John B feat. Code 64 // The Journey (Metrik Remix)
5. Camo & Krooked // The Portal
6. Cube // Sleepless
7. John B // Robot Lover
8. John B feat. NSG // Light Speed (Extended mix)
9. Skepta // Hold On (Fred V & Grafix Remix)
10. Stooshe // Betty Woz Gone (Heist Remix Instrumental)
11. Royalston // Bonesinger
12. Icona Pop // Nights Like This (Icicle D&B Remix)
13. Cube // Pink Violence
14. Metrik // Genesis
15. Ed Sheeran // You Need Me, I Don't Need You (Loadstar Remix)
16. Foreign Concept // Possessive
17. Skream feat. Sam Frank // Anticipate (Netsky Remix)
18. Gmorozov // Acid #2
19. Shimah // Electro Step
20. Billy Idol // Rebel Yell (Gmorozov remix)
21. Example // Midnight Run (Flux Pavilion Remix)
22. Terravita // LOCKDOWN (BARE RMX)
23. Original Sin // Move
24. Nero // Crush On You (Knife Party Remix)
25. Melotronics // Cyber Lovers (Cube Remix)
26. Emeli Sandé feat. Naughty Boy // Daddy (Fred V & Grafix Remix)
27. Camo & Krooked // Far Away
28. Laidback Luke vs Example // Natural Disaster (Andy C Remix)
29. South Central // Sword
30. South Central // S.T.R.O.N.G.E.R
31. Felix Da Housecat // Silver Screen Shower Scene (Chuckie & Silvio Ecomo Dirty Acid Remix)
32. Duck Sauce // Big Bad Wolf (Gesaffelstein Remix)
33. Pryda // Juletider
34. Camo & Krooked // Anubis
35. John B // Love Again (Enei Remix)
36. Cube // Night Trip
37. Tiga // Sunglasses at Night (BTK Remix v1)
38. UNKNOWN VS MAGENTA
39. Terravita // Nail In The Coffin [Beta]
40. John B // Numbers (Camo & Krooked VIP Remix)
41. Receptor // Kislorod
42. Wilkinson // Tonight
43. Dillinja // Hard Noize
44. Hectix // Overnight [BETA]
45. John B feat Shaz Sparks // Heroes (Subsonik Remix)
46. Rage Against the Machine // Killing in the Name of (L Plus Remix)
47. Marilyn Manson // New Shit (John B Remix)
48. Critical Impact // Komonazmuk Translation
49. Telekinesis // Polaris [BAD TASTE]
50. LTJ Bukem // Music
51. Nine Inch Nails // The Hand That Feeds (Zardonic Remix)
52. Deadmau5 // Raise Your Weapon (Camo & Krooked Bootleg Remix)
ALL PHOTOS LINKED WITH THIS POST BY DENNIS BORA
Part 1 of John B's set, recorded live at the WUK club in Vienna, Austria, on April 9th, 2005
http://www.johnbpodcast.com/content/JohnB_Live_Vienna_2005_04_09_Pt1.mp3
Part 2 of John B's set, recorded live at the WUK club in Vienna, Austria, on April 9th, 2005
ttp://www.johnbpodcast.com/content/JohnB_Live_Vienna_2005_04_09_Pt2.mp3″
Part 1 of John B's set, recorded live at the WUK club in Vienna, Austria, on April 9th, 2005
http://www.johnbpodcast.com/content/JohnB_Live_Vienna_2005_04_09_Pt1.mp3
Part 2 of John B's set, recorded live at the WUK club in Vienna, Austria, on April 9th, 2005
http://www.johnbpodcast.com/content/JohnB_Live_Vienna_2005_04_09_Pt2.mp3