Director Aaron Fairooz has been a fan of John B for over a decade. He decided to take his skills and resources and combine them with the groovy sounds of John B's song "American Girls" (originally released in 2002) to create this 80's inspired music/fashion video.
The video celebrates the carefree nature of an attractive young American girl while also exaggerating sexuality, excess and entertainment.
Available to stream/download on John B 'Brainstorm (18th Anniversary Edition)' at http://jhnb.me/Brainstorm
Directed & Produced by: Aaron Fairooz http://www.fairoozimaging.com https://www.instagram.com/fairooz_ima…
Model: Rouge Apker https://www.instagram.com/rougeapker/
Hair & Make Up: Kelsey Ikeler https://www.instagram.com/varietyjones_/ http://www.kelseyikeler.com
First Assistant Director: Ale Bonilla https://www.instagram.com/alehairninja/ http://www.esotericastudiosusa.com
JOHN B & WRECKAGE MACHINERY: Download "Omega Racer" here:
Beta Recordings Webstore: http://jhnb.me/2p9CHGB
Spotify: http://jhnb.me/2FMA87y
Apple Music: http://jhnb.me/2p8tIp6
Beatport: http://jhnb.me/2p9H0lq
Credit to BEEPLE for the awesome graphics!
Destination future: John B ignites another big year with 'Omega Racer'. A surging return to his epic synthwave/D&B Hybrid sound with pure positivity and energy, whether you're looking to uplift your dancefloor or hunting replicants, this is the perfect soundtrack.
The latest in an exciting new line of talent to feature on Beta this year including Hectix, Specialist Sound and Melotronics, 'Omega Racer' is the result of a rough demo sent to Beta HQ by young Austrian artist Wreckage Machine. Instantly hearing promise in the demo, John jumped on board and navigated the track towards the most euphoric pastures possible with a knowing sense of futuristic timelessness: A crystalline blast of pure synthesis powered with precision levels of barbed elation, this builds on the trance and bass sound John's been sculpting for most of his career.
The sound of an open road into an unknown future – landing amid b2b US tours, forthcoming collaborations with Digital and Code 64, an appearance on Hospital's 'Sick Music' album and an in-demand festival season on the horizon – 'Omega Racer' marks the start of another busy year for the long-standing innovator and his imprint. Buckle up.
Welcome to the first of a new series of travel vlogs from Drum & Bass DJ John B as he travels the globe & DJs at some of the best parties in the world!
Filmed & edited by John B. Additional club video thanks to Hanz-Cris Loime
Post originally from the John B Blog:
My EP on Headz is out now – buy links are below, along with audio previews and the official Video for LAVA which I'm proud to say I edited myself! I've been slowly learning a few new tricks in Final Cut X – (a far cry from the random tour videos I used to just edit on iMovie back in the day) I think this came out pretty well!
Anyway – here's the PR blurb and a couple of reviews we got, including a 10/10 in Mixmag and 'Single Of The Month'! Not bad!
"It's been a while since John B graced the skull with the headphones. Across his career he has released genre defining music. His tracks on Prototype are revered and we don't even need to comment on his contributions to the Headz catalogue, but that's all in the past- its 2016 and he has a new agenda to set. These tracks are exactly what you would want from John B on Metalheadz. One side has drama, one side has soul. It's a welcome return for a missed team member."
BUY LINKS:
Vinyl & Digital – Metalheadz Store: shop.metalheadz.co.uk/vinyl/meta039
Apple Music/iTunes: CLICK HERE
Beatport: CLICK HERE
Juno review (Click here to read in full):
"It's been years since John B last fronted a Headz release – 15 to be precise – but there is no other label these three tracks would be more at home on. Techstepping back to his earliest visions, "Lava" is a straight up spring back to 1998 in new trainers. Stark, grimy and heads-down, it pays homage to one of drum & bass's most innovative eras. "Lie To Me" reminds us of John's inability to sit still creatively with the jazzy, almost "Brand New Funk" style dynamics of "Lie To Me". Finally we hit "The Colossus". One of John's secret weapons since Sun & Bass 2015, it's an ugly piece of uncompromised machine funk with all the bass groans and cymbal splashing you could ever ask for. Arguably John's best release this decade."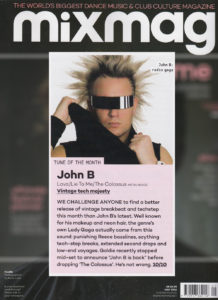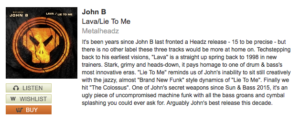 CLICK HERE to buy mp3 or WAV download at www.beta-store.com
Also available on iTunes:Â www.smarturl.it/BETA048
Watch the official video for 'Starburst' here:
History begins here: 18 years after its release, John B's ground-breaking debut album 'Visions' receives a long-overdue remastering and full deluxe reboot.
Rewind: 'Visions' landed in 1998 on New Identity Recordings, part of one of the most influential label portfolios in drum & bass history captained by DJ SS. Responsible for signing and developing some of the most long-standing, influential artists in the genre, SS's legacy and footprint is still crucially relevant as Formation Records also celebrate 25 years of big bass business this year.
Aged with authority and authenticity: 'Visions' reminds us just how forward-thinking the Beta Records founder has always been. Strictly doing his own thing since he came into the game at 18; John penned 'Visions' as two distinct chapters, both parts grasping two of late 90s drum & bass's most exciting sounds and pulling them into groundbreaking new directions.
Part one, 'Organic' saw John swerve the standard sample-smashing of the era to create warm, full bodied natural grooves from real musicians. In a stark twist of contrast, part two 'Synthetic' foretold both the techstep phenomenon and his own angular, precision electro edge that were to soundtrack our entrance into the new century. One side au natural, one side machine manufactured: both techniques and approaches still dominant in drum & bass today… 'Visions' by name, visionary by nature.
It also comes complete with total remake of his hugely successful Vangelis-inspired 'Starburst'. Previously constructed on analogue synths, 'Starburst 2016' was re-created from the ground up with modern synths and contemporary production. While the scene continues to forage for antiquities, John shows us the other side of the sonic coin once again.
'Starburst' isn't the only track to enjoy an update: every track you hear on the album has been remastered. The production, however, remains timeless: No one knew how well 'Visions' would sound 18 years later. No one knew how well it would document drum & bass's infant years. Still sounding slick and bursting with creative ideas, the album tells the story of both an artist and a genre growing up, fizzing with directions and ambitions.
'Organic': A maze of mischievous jazz and funk experimentalism. A sharp sense of youthful melody and off-beat surprises await as we spring through the horn-heavy haze of tracks such as 'Sax Therapy', 'Jazz Session', the purring keys and slap bass of 'Slamfunk (Moog Remix)' and sunset soul of 'Reflections'. The spacious, Orient-focused penultimate track 'The Second Judgement' teases for the darkness of what's set to follow…
'Synthetic': While the first part showcased John's funkier, soulful musicality, 'Synthetic' really established his pedigree as a premiership producer. Forecasting today's highly technical, synthetic production style you can hear John pushing his machines to their limits, finding new sounds and techniques. The wriggling alien bass of 'VCF', the razor-sharp Detroitian electro iciness of 'Electro Shock', the iron-fist two-step and sci-fi breakdown of 'Travelogue'. Not to mention the clear proto techstep dynamics of 'Sight Beyond' and 'Secrets'. Several years ahead of their time, they play a role in one of the most gamechanging chapters in drum & bass.
No surprises, then, that 'Visions' found home in the selections of the most influential DJs at the time – Grooverider, SS, Adam F, Goldie, Photek. It's here where John dug deep foundations for his fusionist, futurist signature: an amorphous sense of development and narrative, tightly balanced shades and contrasts, well-chiselled breaks and sharp synthesis.
Every genre has its small selection of pivotal albums that show clear signs of progression, influence and documentation and brand new benchmarks: 'Visions' is an album that lives up to its name in ways John never could have imagined at the time. The future is now…
Available now as a free download from John B's soundcloud page we present his new track "Electricity". A powerful, politically-charged comment on society, status, government, big business, police, corruption. And electro.
Featuring comments from Russell Brand during his appearance on BBC Question time last year & a hard-hitting video with archive footage of the protests in London & America, big business, media-propoganda, wealth & poverty.
This is not easy-listening, meaningless, throw-away Drum & Bass. This is a reaction against Bottle Service firework EDM excess & brainwashed hashtag self-obsession, inequality & opression. Serious music, serious issues & serious Bass.
Video edited by John B using archived news footage & shots from 'Hands up Don't Shoot' by Eric Rodriguez..
Buy on iTunes:
Buy on Beatport:
Video Filmed, Directed & Edited by John B
John B ft. Code 64 & Undersound – The Journey (John B Acoustic Mix) [OFFICIAL LYRIC VIDEO]
Release date: March 25th 2013
Label: Beta Recordings
Written & produced by John B
Vocals by Code 64
Guitars performed by Undersound
Notes from John B:
"I've been wanting to do an stripped-down acoustic version of "The Journey" for a long time, so with the help of Gareth Evans (Undersound) on the guitar, I put this together. It will be available when the single and all the other remixes, including the Metrik one come out on March 25th.
Decided it would be nice to try my hand at editing a lyric video too, so using various footage from my travels last year, a lot of epic ones in Russia (Cherepovets and Petrosavodsk I think), I put this video together. Please share, repost & all that jazz – I want everyone to hear this!
Acoustic-step dnb??"
GRIMEY GERMAN JUNGLE BIZNIZ. Backstage Tour footage from John B in Bremen, Germany, sometime in 2009 with MC Rage, DJing for a Lifeline Promotions event at the Aldin & Tivoli complex.
If you want to download the video file for iphone & ipod click here.
Randon drunken backstage banter at Pirate Station in St. Petersburg. John B with the camera chatting and rambling with El Hornet of Pendulum, Noisia, Chase & Status, Subfocus. And a piano. No DJs were harmed during the making of this film…
To download this video file for ipod & iphone click here.
To download this video file for apple TV/PS3 etc in full 720p click here.
To watch the video in High Definition on YouTube click here
720p HD Tour video of John B's biggest gig ever to 25,000+ ravers at the SKK arena in St. Petersburg for the Pirate Station 'Immortal' Event.
Loads of live footage from his set in the main arena, then the VIP Deluxe arena for his 2nd set. Crazy performances from acrobats and performance artists & sexydancers on-stage. And some bonus footage from the artists' area backstage, and pretty scary video of stilt walkers falling over! (We hope they're ok!)
Much love to all the Russian fans, all the organisers & crew that made the event as amazing and memorable as it was!
To be followed by another video of all the random backstage drunken banter 😉
If you want to download the video file for iphone & ipod click here.
If you want to download the BIG 720p video file compatible with most players click here.
AND you can see all the photos from the event if you click here.