It's now 19 years since my original Trance & Bass mix first came out – as a special Mix CD on the cover of Mixmag Magazine. It was definitely an important moment in my career & exposed what I do & how I play to a bigger audience, and also I think a really cool snapshot of what was a really exciting time in DNB, that any of us that are still around will look back on fondly.
Big thank you to everyone at Mixmag who helped push the idea of this CD and thought of inviting me to do it, all those years ago! I've been streaming live DJ sets & working hard on my visuals and general Twitch stuff for over a year now, to get through the 'situation', to the point were we've got over 8000 followers in the 'Loft Crew' (I broadcast these from my loft, as was very obvious in the early days with the strange triangular greenscreen behind me, the shape dictated by the low ceiling and shape of the roof!).
The computer I use for the streaming is now at its absolute limit of what it can handle so there was a bit of lagging tonight – not up to my usual standard, hopefully the music shines through regardless. I've got a new PC on the way (and looming mammoth credit card bill as a result lol) to use up there, so the resolution/frame rate etc will be back up to 10/10 shortly!
The plan for this set was to revisit the original tracklist and then continue playing tracks along the same lines, some from the same era in the early 2000s that would have fitted in well back then, alongside more recent stuff, all sticking with that 'Trance & Bass' brief.
Huge shout out to all the producers making incredible DNB to this day, whatever the subgenre, and to the guys at the forefront of the Trance & Bass sound back then, and those still pushing it today.
Also a HUGE thank you to everyone that regularly tunes in to my livestreams on Twitch (AKA the #loftcrew), takes part in the community, those that support me with 'subs' and 'bits' tips/donations – it really helps keep me going, both mentally, and financially. You guys really are the best. Thank you.
I stream DJ sets on Wednesday, Friday & Sunday nights live on twitch at 8pm (UK) http://www.twitch.tv/johnbbeta [Though I'm giving the Wednesdays a break for the next couple of months to give me some time in the studio and working on video prep for my live Visuals to take on Tour] Friday nights is for 'Upfront D&B' sets, sometimes themed ones – and on Sundays I play Vinyl only – Drum & Bass classics & rarities! Wednesday is for Chilled Liquid Funk DNB – with Beach/Pool/Tropical Island related Visuals.
It's a lot of fun – make sure you come say hi in the chat when we're live – I do my best to talk to everyone while I'm playing & even sometimes take requests 😉
www.twitch.tv/johnbbeta for all my livestreams!
SUPPORT MY MUSIC & CONTENT:
Subscribe on Twitch: www.twitch.tv/johnbbeta
Donate (Triggers alert during live streams): www.streamlabs.com/johnbbeta
BUY MUSIC:
john-b.bandcamp.com
www.beta-store.com
BUY MERCH:
jhnb.me/Merch
FOLLOW ME:
www.instagram.com/johnbbeta
www.twitter.com/johnbbeta
www.facebook.com/johnbbeta
DISCORD COMMUNITY:
jhnb.me/Discord
MY WEBSITES:
www.john-b.com
www.johnbpodcast.com
LISTEN TO MY MUSIC ON SPOTIFY/APPLE MUSIC ETC:
jhnb.me/Listen


CLICK HERE TO LISTEN ON APPLE PODCASTS
CLICK HERE TO LISTEN ON GOOGLE PODCASTS
http://podcast.johnbpodcast.com/content/JohnBPodcast197.mp3
LIMITED EDITION T-SHIRT & DOWNLOAD BUNDLE:
https://www.beta-store.com/products/approaching-zero-t-shirt-bundle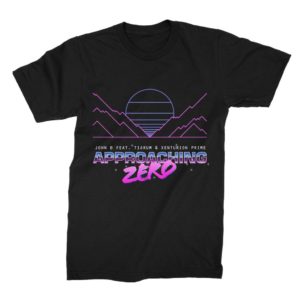 CLICK HERE to Download mp3 or WAV direct from our webstore
BUY/STREAM LINKS for Apple Music / Spotify etc:
https://fanlink.to/BETA055
"Hello again, it's good to see you…"
Beta Recordings Space-Captain, Retro-Synth-80s connoisseur and flagrant rule shredder John B touches down in his drop-ship from a stacked touring schedule with a genuinely singular piece of work: 'Approaching Zero'.
Over a year in the making, conducting and fusing the creative compositional skills of Russian multi-instrumentalist (& professional drone cameraman) Tairum and longstanding vocal cohort Xenturion Prime (FKA Code64), 'Approaching Zero' is the culmination of all John's signature muses: Stark futurism, 23rd century romanticism, time travel paradoxes, lavish 80s aesthetics and dancefloor theatrics, all wrapped up tightly in a neon glowing contemporary D&B production pressure cooker.
It's a quintessential example of the Synthwave/Epic-Retro-80s influenced Drum & Bass John has been honing and pioneering for over the last 15 years.
Galvanised by Bjorn from Xenturion Prime's vocals alluding to meeting your past self in the future, approaching end of life (and mildly chiding the loudness war stormtroopers with its 0RMS double entendre) 'Approaching Zero' shines an entirely different light on typical songwrit- ing trends in Drum & Bass and expresses John's love for all things 80s to the very detail.
From his own VHS-era 80s Sci-Fi cyber art video to the unique unplugged version that strips the song back to its chords and acoustic guitar, this is the future 'synthwave' inspired D&B sound of John B that the past John B has been focused on since he championed his own distinctive 'Trance and Bass' direction with his infamous (now highly collectable) 'Trance & Bass' Mixmag cover CD many moons ago.
Will this be his legacy? See you at the edge of the universe….
Download here:
Beta Recordings Webstore: CLICK HERE for WAV & mp3 Downloads
Spotify: CLICK HERE
Apple Music: CLICK HERE
Beatport: CLICK HERE
Destination future: John B ignites another big year with 'Omega Racer'. A surging return to his epic synthwave/D&B Hybrid sound with pure positivity and energy, whether you're looking to uplift your dancefloor or hunting replicants, this is the perfect soundtrack.
The latest in an exciting new line of talent to feature on Beta this year including Hectix, Specialist Sound and Melotronics, 'Omega Racer' is the result of a rough demo sent to Beta HQ by young Austrian artist Wreckage Machine. Instantly hearing promise in the demo, John jumped on board and navigated the track towards the most euphoric pastures possible with a knowing sense of futuristic timelessness: A crystalline blast of pure synthesis powered with precision levels of barbed elation, this builds on the trance and bass sound John's been sculpting for most of his career.
The sound of an open road into an unknown future – landing amid b2b US tours, forthcoming collaborations with Digital and Code 64, an appearance on Hospital's 'Sick Music' album and an in-demand festival season on the horizon – 'Omega Racer' marks the start of another busy year for the long-standing innovator and his imprint. Buckle up.
Epic 80 minute studio mix with John B playing all the best in upfront Drum & Bass, right across the spectrum from electro, atmospheric, heavy techstep-monsters, dancefloor bombs & a few classics…
JOHN B PODCAST 75 TRACKLIST
1. Tesla Boy // Runaway Man (John B UNOFFICIAL Remix) // [CDR]
2. Klute // Will you Still Love me? // [Commercial Suicide]
3. Noisia // Thursday // [Vision]
4. Tuneboxii // Bits & Blocks (Lynx Remix) // [Run Riot Recordings]
5. Seba // Keep Me Waiting // [31 Recordings]
6. Imploex & Enei // Universal
7. Young Punx // Ready for the Fight (Phonat Remix) // [MoFo HiFi]
8. DC Breaks // Halo [Viper Recordings]
9. Cube // Metro Lovers // [Nu Electro]
10. Xilent // Irreversible // [Beta Recordings]
11. DaVIP & Encode // Vamonos // [Breed]
12. Subsonik & MC Messinian // We're Coming Back
13. DC Breaks // Take Me Alive // [Viper]
14. dBridge, instra:mental & Skream // Arcacia Avenue // [Autonomic]
15. Lenzman // Rags to Riches // [Shogun Audio]
16. Cube // Go Away // [Nu Electro]
17. Fresh // Acid Rain // [BBK]
18. Nero // Electron // [MTA]
19. Johnny L // Piper (Grooverider Remix) // [XL]
20. Ed Rush & Nico // Technology (Boymerang Remix) // [No U Turn]
If possible please subscribe to the podcast in iTunes here – that way your iTunes will automatically download each new episode as soon as they are published.
If you hate iTunes or just don't have access to the store in your country etc – you can download the podcast directly if you click here.
Photos from 'Let it Roll' in Prague, 19.02.10 click here for whole gallery.