LIMITED EDITION T-SHIRT & DOWNLOAD BUNDLE:
https://www.beta-store.com/products/approaching-zero-t-shirt-bundle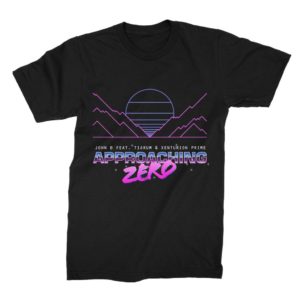 CLICK HERE to Download mp3 or WAV direct from our webstore
BUY/STREAM LINKS for Apple Music / Spotify etc:
https://fanlink.to/BETA055
"Hello again, it's good to see you…"
Beta Recordings Space-Captain, Retro-Synth-80s connoisseur and flagrant rule shredder John B touches down in his drop-ship from a stacked touring schedule with a genuinely singular piece of work: 'Approaching Zero'.
Over a year in the making, conducting and fusing the creative compositional skills of Russian multi-instrumentalist (& professional drone cameraman) Tairum and longstanding vocal cohort Xenturion Prime (FKA Code64), 'Approaching Zero' is the culmination of all John's signature muses: Stark futurism, 23rd century romanticism, time travel paradoxes, lavish 80s aesthetics and dancefloor theatrics, all wrapped up tightly in a neon glowing contemporary D&B production pressure cooker.
It's a quintessential example of the Synthwave/Epic-Retro-80s influenced Drum & Bass John has been honing and pioneering for over the last 15 years.
Galvanised by Bjorn from Xenturion Prime's vocals alluding to meeting your past self in the future, approaching end of life (and mildly chiding the loudness war stormtroopers with its 0RMS double entendre) 'Approaching Zero' shines an entirely different light on typical songwrit- ing trends in Drum & Bass and expresses John's love for all things 80s to the very detail.
From his own VHS-era 80s Sci-Fi cyber art video to the unique unplugged version that strips the song back to its chords and acoustic guitar, this is the future 'synthwave' inspired D&B sound of John B that the past John B has been focused on since he championed his own distinctive 'Trance and Bass' direction with his infamous (now highly collectable) 'Trance & Bass' Mixmag cover CD many moons ago.
Will this be his legacy? See you at the edge of the universe….