John recently spoke to the Ministry of Sound for a quickfire 'Tough Questions' interview in the run up to his gig at the Metalheadz at Ministry of Sound event.
Read the article thing here:
https://www.ministryofsound.com/posts/articles/2020/february/john-b-tuff-questions/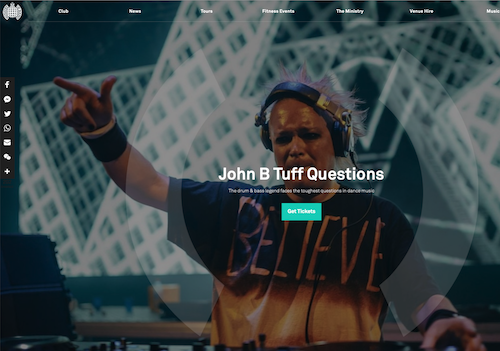 John B Live at the Drum & Bass Arena Summer D&B BBQ at The Ministry of Sound in London, recorded in July 2017.
John B DJ Booking Enquiries (Worldwide): [email protected]
North American DJ Bookings: [email protected]
Russia/CIS DJ Bookings: [email protected]
LINK FOR DIRECT DOWNLOAD OF MP3: http://podcast.johnbpodcast.com/content/JohnBPodcast173.mp3
We're delighted to announce that John B was voted #1 DnB DJ at this year's DJ Mag Top 100 Poll, coming in at #92 overall!
John was presented with his award on Wednesday night at the Ministry of Sound nightclub in London, by Peter Hook (of Joy Division & New Order). More than 300,000 votes were cast this year, from 263 different countries.
We'd like to thank everyone who voted for John for the support & for taking the time to vote for him. John said in his blog: "I'm absolutely over the moon with the result, it's an amazing achievement to finally break into the DJ Mag Top 100, and an honour to be the highest Drum & Bass DJ! Thank you SO MUCH everyone that supported me in the poll – I promise I'll keep the podcasts coming, and keep giving it 200% on tour! Thanks!!!"
Armin Van Buuren was number 1 for the 3rd year running, (and told John he was secretly a fan of Drum & Bass!), and there were some great DJ sets on the night from Mr Buuren, Gareth Emery, Above & Beyond & lots of other guys, but we'd had too much champers by then to remember!
You can see the full Top 100 list in this month's edition of DJ Mag, or on the DJ Mag website if you click here.
John was interviewed by skrufff.com about the award last week – you can read the article here.
Here's the John B entry in the Magazine: