The second of 2 live sets recorded last weekend at John's gig in Luzern, Switzerland, at Schuur – where historically he ends up playing the main DnB party and then an afterparty set of electro & techno! A beautiful city in Switzerland, with a gorgeous lake, fabulous wine, and of course loads of lovely ravers – always a pleasure…
Remember to 'like' John B on facebook here.
CLICK HERE to subscribe in iTunes
LINK FOR DIRECT DOWNLOAD OF MP3: http://podcast.johnbpodcast.com/content/JohnBPodcast100_Part2.mp3
TRACKLIST
00:00 Crackboy – Kiddo
05:44 Zombie Nation – Suede (Zoo Brazil Remix)
08:04 Jori Hulkkonen, Third Culture – Bass Is A Many Splendored Thing (The Model Remix)
11:42 Strip Steve – Mother Circuit
15:58 Maelstrom (FR) – Lux
17:27 Body Language – Lose My Head (Jimmy Edgar Remix)
21:08 Jori Hulkkonen, Tiga – Trust Your Body (Danny Daze Dub)
23:52 Djedjotronic – Clamz
25:50 Cari Lekebusch – Obsidian
27:31 dubspeeka – Fix Me
32:00 Borderline – Halloween
34:00 Robert Hood – Drive (The Age Of Automation)
37:15 David Carretta, Workerpoor – Electronic Warfare
40:54 MiniCoolBoyz – In Your Face
43:14 Cristior – Deshoda (Petar Dundov Remix)
47:36 Anthony Rother – Traumzeitreise
50:41 Anthony Rother – Catharsis
53:17 Nyma – In The Mirror (Digital Only)
57:34 Him_Self_Her – Gone Too Long
1:00:27 Jimmy Edgar – Black Neon Dance Floor
1:04:49 Proxy – Cypher
1:06:17 Marco Bailey, Filterheadz – Mansion
1:12:56 Stacey – Two Of Hearts
TRACKLISTING
1. Alex Metrik // Head Straight
2. Felix Da Housecat // We All Wanna Be Prince (Danny Howells Remix)
3. Moby // Mistake (Lifelike Remix)
4. FM Radio Gods // Circuit Child (Presslaboys Remix)
5. GeRM // No Means No
6. Billy Newton Davis // All U Ever Want (Deadmau5 Remix)
7. Duck Sauce // aNYway
8. Lost Valentinos // Midnights (Emperor Machine Remix)
9. Wolfgang Gartner // Wolfgang's 5th Symphony
10. Francesco Farfa // White Sabbath (Dub Orchestra Mix)
11. Felix Da Housecat // Elvi$
12. Brett Johnson // Two Cents
13. DJ Mujava // Township Funk (Crazy P remix)
14. Back To Stay
15. Sare Havlicek // Astronave
In preparation for John B's Main Stage Headlining ElectroTechno set at the Summer Of Love Festival in Czech Republic this weekend & upcoming London Fashion Week Parties, we thought it was time for another 4/4 non-Drum & Bass Showcase Studio mix… Enjoy!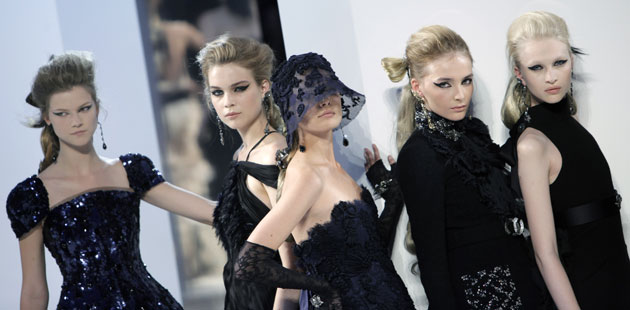 You can download the mp3 here:
http://www.johnbpodcast.com/content/JohnB_August2009CatwalkMix.mp3
Also – if you want to help support the cause and vote for John B in the DJ Mag Top 100 Vote CLICK HERE or click on the image below 🙂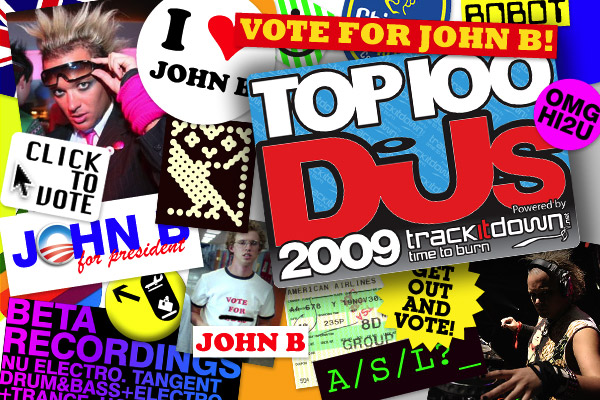 John Bs First full Electrohouse Mix for the Redux show on XM Satellite Radio, first broadcast on 21 May 2006.
Yes – it's finally here… The latest John B show for XM Radio, and you guys get the VIP advance mp3 biznizch… Feel free to share with your friends, upload mirrors to yousendit.com and all that bizniz, post the links on your local message boards – will probably save our servers some trauma…
This time it's all in for a full hour of 4/4 electrohouse & electro-techno, with a bit of chat for those that have a soft spot for English accents… 🙂 This mix should serve as a showcase of how & what John B plays for alternative non-DnB sets (when required) – grimey electrohouse, a bit of 'minimal' & stonking electro-techno with rocky-guitars…
Hope you like it! Don't forget to leave comments on myspace and all that stuff…
TRACKLIST:
1. Twisted Emotion – Hyper
2. Behind the Wheel – Playgroup Rmx
3. Marathon Man – Stephan Bodzin
4. Impact Disco – Marc Romboy
5. Up In The Art – Artifex
6. Body jack – Mark Romboy & Tommie Sunshine
7. Rutte Delicious – Ja Ja
8. House Ya – Mark Romboy & Blake Baxter
9. Jupiter – Chris Menace
10. Adyra – Duoteque
11. Closer – Ascii. Disko
12. Heat – Gregor Tresher
13. Me On (Alex Kenji Rmx) – Johan Afterglow
14. Lunar Connoisseur – Gabriel Palomo
15. Rokit – Jerome Isma-Ae
So yeah, check out the Redux show on XM radio, on 'The Move' channel next week, or if you don't have an XM subscription just DL the mp3 file here:
http://www.john-b.com/podcast/JohnB_ReduxMay2006_XMRadio.mp3