As always Let It Roll was completely Epic & a huge honour to be invited there to perform.
I put a lot of time & thought into preparing for my set this year, made a load of edits & mashups & really thought about how & what I wanted to play, the direction & journey, special moments to try to create while covering all the different angles of Drum & Bass I love & to share that with everyone there on the day with me. Hope I succeeded in the mission. Here's what I played at Let it Roll 2019 – enjoy!
PLEASE SHARE THE LINKS SO MORE PEOPLE HEAR THIS – AND TELL YOUR LOCAL DNB PROMOTERS TO BOOK JOHN B 🙂
John B DJ Bookings:
[email protected] (World)
[email protected] (USA/Canada)
Subscribe on iTunes: www.itunes.com/podcast?id=334105892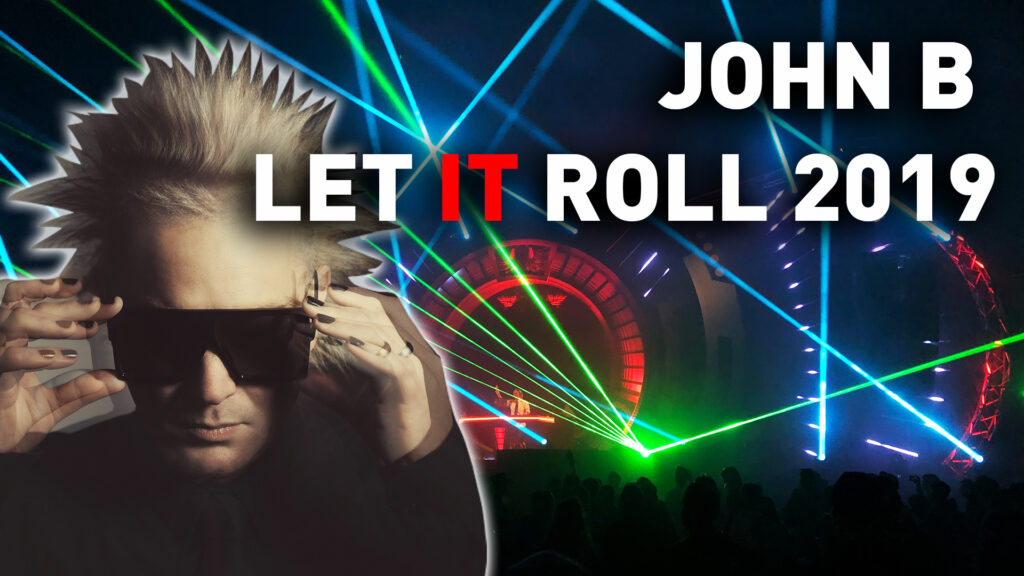 JOHN B LET IT ROLL 2019 TRACKLIST
1. John B – Pressure 2019 (LIR Intro Version)
2. Xanadu – Helicon [Dom & Roland Productions]
3. Moon in Your Eyes x Kallisto (Camo & Krooked / Serum etc) – JOHN B MASHUP EDIT
4. Numbers (Camo & Crooked VIP vs Millbrook's 'Cover version') – JOHN B MASHUP EDIT
5. Mr Hackers Warp – Metrik / Sub Focus / Hazard – JOHN B MASHUP EDIT
6. John B – Robot Lover
7. John B ft. Tiarum & Xenturion Prime – Approaching Zero (Club MIx)
8. Eric Prydz – Niton (Metrik remix)
9. Bad Company – Blind
10. Up All Night – (Epic Mix vs Murdock Bootleg Remix John B Edit) – John B
11. The Nine vs Miss Kittin vs Morning Light vs Alien Girl – JOHN B MASHUP EDIT
12. Let Me Be Your Fantasy (Dope Ammo & DJ Hybrid Remix) [John B EDIT] – Baby D
13. Kaos Reigns – D*Minds
14. Geometry (Fre4knc Remix) – Kyrist
15. Als Wärs Das Letzte Mal (Boys Noize Remix) – DAF
16. Careful – Disphonia
17. The End [ENERGY] – A.M.C
18. The Hand That Feeds (Zardonic Remix) – Nine Inch Nails
19. Voodoo People (Pendulum VIP) – The Prodigy
20. Valley of The Shadows (Chase & Status Remix) – Origin Unknown
21. X-Ray (Metrik Remix) / Desire – Sub Focus x Dimension – JOHN B MASHUP EDIT
22. Infinity [JB EDIT] – DJ TRACE
23. Red Sky (Feat. Shaz Sparks) – John B
24. The Chain (Emperor Re-nicks) – Fleetwood Mac
25. The Journey (Metrik Remix) – John B ft Code 64
John B DJ Booking Enquiries (Worldwide): [email protected]
North American DJ Bookings: [email protected]
Russia/CIS DJ Bookings: [email protected]
LINK FOR DIRECT DOWNLOAD OF MP3: http://podcast.johnbpodcast.com/content/JohnBPodcast180.mp3
Back with another Epic set from John B – this time he had the honour of playing the final set on the final night of Let It Roll, on the Main Stage as the sun came up – a truly special moment at the biggest Drum & Bass festival in the world, held in the heart of the Czech Republic. The audio comes from the livestream broadcast so is lower resolution than normal, and mono, so apologies for that, but we thought it would be nice to share the set so you can share the moment!
If you like the set please 'like' and share on your social media channels to help get the word out and get more people to hear the music 🙂
John B DJ Booking Enquiries (Worldwide):
[email protected]
North American DJ Bookings:
[email protected]
Russia/CIS DJ Bookings:
[email protected]
LINK FOR DIRECT DOWNLOAD OF MP3:
http://podcast.johnbpodcast.com/content/JohnBPodcast164.mp3
PHOTOS BY HANNAH MACOVKOVA PHOTOGRAPHY
https://www.facebook.com/saiha