John recently spoke to the Ministry of Sound for a quickfire 'Tough Questions' interview in the run up to his gig at the Metalheadz at Ministry of Sound event.
Read the article thing here:
https://www.ministryofsound.com/posts/articles/2020/february/john-b-tuff-questions/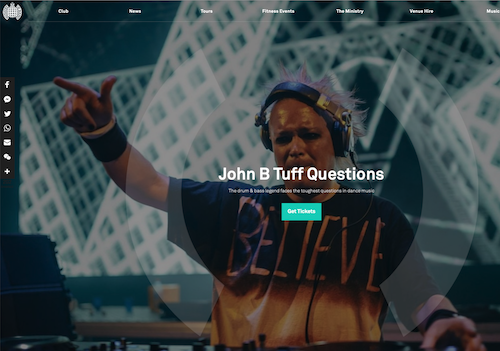 CLICK HERE to buy on iTunes
CLICK HERE to buy on Beatport

[soundcloud url="http://api.soundcloud.com/playlists/4036847″ params="" width=" 100%" height="450″ iframe="true" /]
CLICK HERE to buy on iTunes
CLICK HERE to buy on Beatport
John B Ft Code 64
The Journey
Beta Recordings
Worldwide release 25 March 2013
Following the rich vein of melodic, star-gazing sonic form set by his previous single – the blistering n' beautiful 'Love Again' – 'The Journey' is yet another highlight from his Mixmag acclaimed album highlight 'Light Speed'. Opening with the trembling, angels-from-heaven style intro, it's an instant flashback to the heady days of Sasha & Digweed at their prime; delicate, enrapturing, dreamy, euphoric. A perfect set opener, a perfect set finale, a perfect moment for deep, shivering reflection mid-set… It's an instant ear-catcher, whenever you drop it.
As the intro develops, we're snapped away from our progressive reverie and slammed into the future with John's robust beats, trademark crisp electro bassline and floating synth work. By the time Swedish artist Code 64's perfect vocal delivery enters the mix all watches in a five mile radius are automatically set to 'rush o' clock'. Executing an impeccable balance between dancefloor power and genuine song-writing, it's yet another reason why John B is respected as such a unique artist. Not just in drum & bass, but the wider world of electronic music.
Remix-wise you're in for a treat as Beta have invited the unstoppable Metrik to the fold for a very special remix! A firm fave at the Hospital camp, Metrik is unavoidable right now. Leading the charge of D&B's next generation with an ability to fuse raw production power with the subtleties of melody and vocal dynamics, he's the perfect remix candidate for 'The Journey'. Paying respect to John's original, Metrik's given the bass a major beef boost, tweaked the arrangement with his own space-bound arpeggios and bolstered the beats. Where John's original was a moment of dancefloor reflection, Metrik's version is a moment of dancefloor detonation.
Complete with an acoustic version and all manner of instrumentals and radio edits, there's an ideal solution for every platform, every club, every time of the night.
John B & Code 64
1. The Journey (Original Mix),
2. The Journey (Metrik Remix)
3. The Journey (Acoustic Mix)
4. The Journey (Reuben Keeney & Rafii Remix)
5. The Journey (Metrik Instrumental Remix)
6. The Journey (Metrik Radio Edit)
7. The Journey (CD Edit)
Date: 25 March 2013
Cat: BETA039
Buy on iTunes:
Buy on Beatport:
Video Filmed, Directed & Edited by John B
John B ft. Code 64 & Undersound – The Journey (John B Acoustic Mix) [OFFICIAL LYRIC VIDEO]
Release date: March 25th 2013
Label: Beta Recordings
Written & produced by John B
Vocals by Code 64
Guitars performed by Undersound
Notes from John B:
"I've been wanting to do an stripped-down acoustic version of "The Journey" for a long time, so with the help of Gareth Evans (Undersound) on the guitar, I put this together. It will be available when the single and all the other remixes, including the Metrik one come out on March 25th.
Decided it would be nice to try my hand at editing a lyric video too, so using various footage from my travels last year, a lot of epic ones in Russia (Cherepovets and Petrosavodsk I think), I put this video together. Please share, repost & all that jazz – I want everyone to hear this!
Acoustic-step dnb??"