Taken from the offical John B Blog:
The guys at nitebeat.de and subculture.de sent over some galleries of photos from my gig over in Freiburg, Germany a couple of weeks back, at 18 months club, with MC Fava – man with the deepest voice in Germany! Had a really fun gig, nice and busy, and well up for it crowd.
Had the world's greatest Club Sandwich in the hotel first actually – worthy of a picture:
And then Rrrrrrrrrinsed it out! (Note my shirt totally soaked and stuck to my back later on. Was HOT in there! Got a late checkout the next day and had some proper rest, seriously good to be able to catch up some sleep like that sometimes! The hotel people were lovely and made me a FABULOUS espresso the next day, flight was on time, and came home to my fabulous girlfriend and PIZZA. Yay!
As usual you can see the whole gallery of photos (there's about 300!) up on my flickr, facebook & myspace pages – and on their original places at nitebeat.de and subculture.de (thanks to the photographers for sending the photos over!).
If you can read German here's a cool mini interview John did for a magazine in Freiburg before his gig over there in November 2008.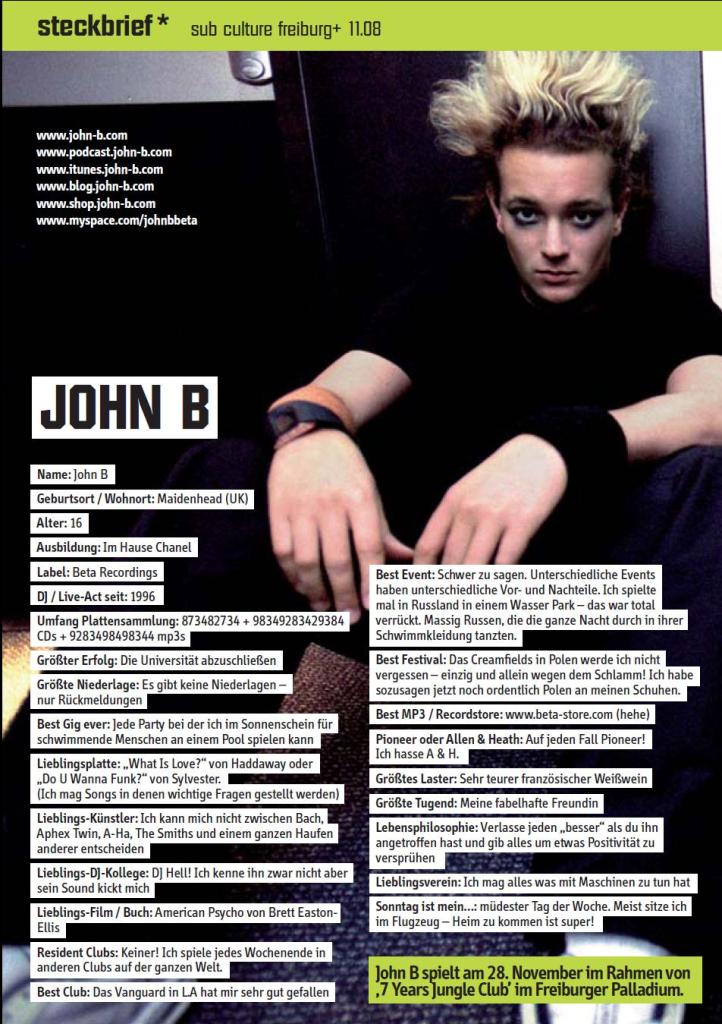 The first John B podcast of 2009 – recorded live at the Palladium club in Freiburg for the 7 Years Jungle Club Birthday Party! 3 hour mighty John B set with MC Fava on the mic, German Dry reisling white wine flowing (as you can hear by the end!). Respect! Photos are up on John B's flickr page. Enjoy!
TRACKLIST:
1. Bloc Party – One Month Off (John B Re-edit) [FULL OFFIAL REMIX ON THE WAY!]
2. John B – Dancing in the dark
3. John B – When the time comes (ReEdit)
4. Klement – Sirene (John B Re-Edit)
5. John B – Disco Hoho Mashup
6. DJ Rashad – Get Down (John B SpeedUpMashUp)
7. John 'Booty' B – Whoomp
8. C4C – Droidz
9. Culture Shock – Kronix
10. John B Vs Iowatest – Timelapse
11. Shockone – Polygon (Viper)
12. ?? – Chaos
13. Grossstadtgefluster – Haufenweise Sheisse
14. The Locarnos – Make Up Your Mind (Alex Metric Remix – John B ReEdit)
15. Sigue Sigue Sputnik – Love Missile F-111 (CounterStrike '03 Remix)
16. Receptor – Rhyno (Breed)
17. Justice – DVNO (Petits Pilous Remix)
18. Presets – This Boy's In Love (LifeLike Remix)
19. Rainer Werner Bassfinder – Roses are Red
20. Alavi – Smells like Rerox
21. Sebastian – Dog
—-MINIDISK CHANGE GAP——
22. Chase & Status – Pieces
23. Katy Perry – I Kissed A Girl (Body&Soul Bootleg Remix)
24. NIN – Hand that Feeds (Zardonic Remix)
25. Simian – We are your friends (Silver Remix)
26. Phonat – Learn To Recycle (John B Re-Edit)
27. John Rolodex – Amenism
28. Cybotron feat. Dillinja – Light Years (Prototype)
29. intstra:mental – The Dead Zone (Darkestral 005)
30. Receptor – Kurchatov
31. Klement – Result (John B Re-Edit)
32. John B – Red Sky
33. John B – German Girls
34. John B – Numbers
35. John B – The Journey (v1.0 Unfinished!)
36. Klement – Check the this is
37. John B – Memorabilia
38. WIT – It Kills (John B ReEdit)
39. Sub Focus – Timewarp
40. John B – Up All Night (Epic Mix)
41. Bloc Party – The Prayer (John B remix)
42. Noisia – Stigma (Vision)
43. Shalamar – Disappearing Act (John B Remix)
—-2 BOTTLES OF DRY REISLING DRUNKEN BANTER—
44. John Bourke – What is Love?
45. John B – Stalking you on Myspace (Electrohouse Mix)
46. Steve Mac – Have Some Fun
47. Dibaba – In Your Face Is The Place (Gigolo)
—- "Meine Leiblingsessen ist Schwartzwalderkirschtorte…" —–
48. Phetsta & Shockone feat. Grant McCulough – Cyclones
—–"Make some noiseeeeeee. Danke Schone. Auf Wiedersehen. THE POLITZEI ARE HERE"
49. Kelley – Shoes
—–"The Politzei REALLY are here"
—–"Ich mochte Kebabs"
http://www.johnbpodcast.com/content/JohnB_Live_At_7yearsJungleClub_Freiburg_28Nov2008.mp3
Click here for photos from the party!
John smashed it last weekend for the 7 years Jungle Club party in Freiburg, in the Black Forest region of Germany, with MC Fava – also the promoter for the night. We've collected photos taken from the event and posted them up on John B's Flickr page, you can see the whole lot if you click here. Big thanks to the photographers!
We also have the audio from the night all recorded, a 3 HOUR SET!! Keep an eye on the John B Podcast page for the whole thing as a free mp3 download in a few days!