Click here to see the whole gallery on John B's Flickr, and, don't forget to check out John B's Facebook page by clicking here!
Badass weekend of lots of snow, cold, no sleep, 2 awesome clubs, and lots of Russian Stuff. John B on tour in Russia, with his interpreter and tour manager Irina – braving the world of dodgy Russian Airlines, airport delays and random lazer beams. In 2008…
And while you're here, please support John B by voting for him in the DJ MAG TOP 100 POLL 2010!
CLICK HERE TO VOTE FOR JOHN B!!
CLICK HERE TO VOTE FOR JOHN B!!
CLICK HERE TO VOTE FOR JOHN B!!
CLICK HERE TO VOTE FOR JOHN B!!
You can see a full photo set from the gig in Murmansk if you click here.
Photos from the gig in Novosibirsk are available if you click here.
You can download the actual video file for you iPhone or other devices if you right click and 'save as' here.
SUBSCRIBE TO THE JOHN B TV HD VIDEO PODCAST in iTunes – just CLICK HERE.

Back in the studio with an epic 2 hour long studio mix for August 2010, we have John B, bringing you the best in upfront Drum & Bass!
We'd also like to ask for your support for John B in the DJ Mag Top 100 Poll at www.top100djs.net please vote! The poll is open until mid-September…
Direct link to download click here.
JOHN B PODCAST 80 TRACKLIST
1. Tesla Boy // Rebecca (John B Re-Edit)
2. All Thieves // Stars (Zero T Remix)
3. Netsky // Pirate Bay [Hospital Recs]
4. Terravita // Drinks Up Hands Up
5. Blame feat. Camilla // Let it Go
6. Indivision & Livewire // Apologies
7. Camo & Krooked // Reality [Viper]
8. The Burbs // Cool Air (Jerona Fruits)
9. Melotronics // Dear John
10. Indivision & Livewire // Skylights
11. Chase & Status // Let You Go (Brookes Brothers Remix)
12. High Maintenance // Sun Flares
13. Ultracode // Vanish
14. Alix Pirez // Loose Ends ft. Noisia
15. Xilent // Twice [Beta Recordings]
16. Need For Mirrors // Gallows
17. Van Halen // Jump (Subclash Remix)
18. Nirvana // Smells Like Teen Spirit (Phil Mac Remix)
19. Receptor // Belka & Strelka [Beta Recordings]
20. The Quemists // Hurt Less (feat. Jenna G)
21. Example // Last Ones Standing (TC Remix)
22. Underworld & High Contrast // Scribble (Netsky Remix)
23. High Maintenance // Red Mist
24. Subwave // Ubikz [Metalheadz]
25. Solid State // Just a Vision (M.I.S.T. Remix)
26. Cyantific // One More Time
27. Gmorozov // Generation 0 [Beta Recordings]
28. Indivision & Livewire // Deeper VIP
29. Pendulum // Witchcraft (John B Remix) [Warner Music]
30. Digital Nation // Aisle 13 [BC Recordings]
31. Foo Fighters // Pretender (TC Bootleg Remix)
32. Adam F // Circles [Section 5]
33. J. Majik // Your Sound [Metalheadz]
If possible please subscribe to the podcast in iTunes here – that way your iTunes will automatically download each new episode as soon as they are published.
If you hate iTunes or just don't have access to the store in your country etc – you can download the podcast directly if you click here.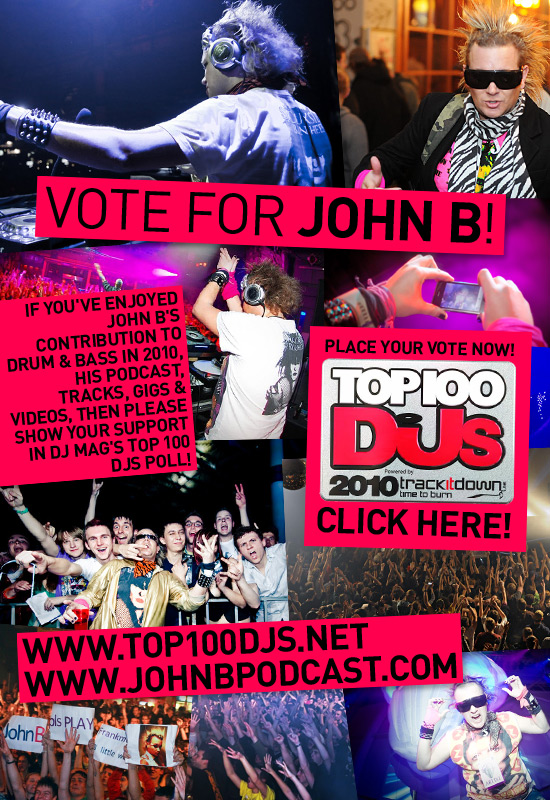 TRACKLISTING
1. Utopia // Diamond Shine // Breed12inches
2. Falling of Ideas // m25, Nummix & First Function // Unsigned
3. Hard Fi // I Shall Overcome (Paul B Remix)
4. John B // Robot Lover // Beta
5. John B // Numbers (Camo & Krooked Remix) // Beta
6. John B feat. Shaz Sparks // Red Sky // Beta
7. Camo & Krooked // Turn Up The Music
8. Michael Jackson // Beat It (John B Re-Edit)
9. Subfocus // Rock It // Ram
10. Freeland // Under Control (TC Remix)
11. Alix Perez feat Fats // Down the Line (Break Remix)
12. Doc Scott // Unofficial Ghost // Metalheadz
>> Marty McFly feat. Emmet Brown // Delorian?
13. Johnny L // Evah
14. Fallin (Shockone Remix) // Agent X feat. Mutaya
15. Juggernaut (Nero Remix) // Enter Shikari
16. Ian Carey Project // Get Shakey (Matrix & Futurebound Remix)
17. Camo & Krooked // One
18. Klement // Girls
19. Johnny L // Come Here
20. Bloc Party // Trojan Horse (John B Remix)
Search for the John B Podcast on iTunes or download the mp3 directly with this link:
http://www.johnbpodcast.com/content/JohnB_StudioMixJuly2009.mp3