Interview for Resident Magazine
John B Recently did an interview for the fabulous Resident Magazine in Austria. Read it here (if you understand German!)
Also published on the German website future-music.net here.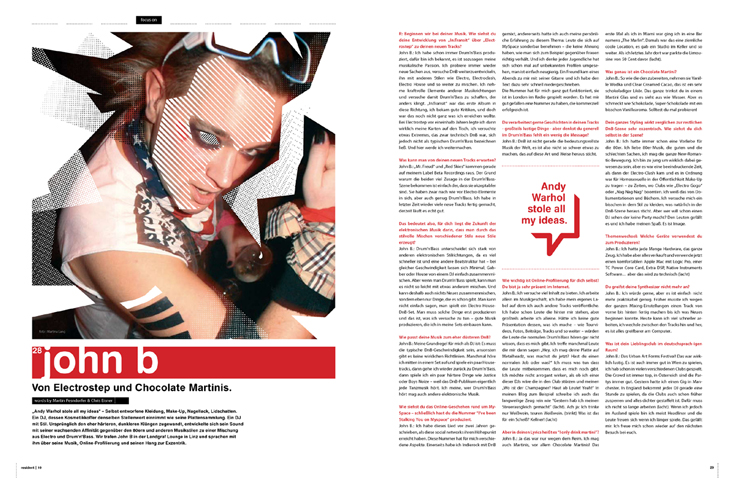 "Andy Warhol stole all my ideas" – Selbst entworfene Kleidung, Make-Up, Nagellack, Lidschatten. Ein DJ, dessen Kosmetikkoffer denselben Stellenwert einnimmt wie seine Plattensammlung. Ein DJ mit Stil. Ursprünglich den eher härteren, dunkleren Klängen zugewandt, entwickelte sich sein Sound mit seiner wachsenden Affinität gegenüber den 80ern und anderen Musikstilen zu einer Mischung aus Electro und Drum & Bass. Wir trafen John B in der Landgraf Lounge in Linz und sprachen mit ihm über seine Musik, Online-Profilierung und seinen Hang zur Exzentrik.


Beginnen wir bei deiner Musik. Wie siehst du deine Entwicklung von "In:Transit" über "Electrostep" zu deinen neuen Tracks?
Ich habe schon immer Drum'n'Bass produziert, dafür bin ich bekannt, es ist sozusagen meine musikalische Passion. Ich probiere immer wieder neue Sachen aus, versuche DnB weiterzuentwickeln, ihn mit anderen Stilen wie Electro, Electroclash, Electro House und so weiter zu mischen. Ich nehme kraftvolle Elemente anderer Musikrichtungen und versuche damit Drum'n'Bass zu schaffen, der anders klingt. "In:Transit" war das erste Album in diese Richtung, ich bekam gute Kritiken, und doch war das noch nicht ganz was ich erreichen wollte. Bei Electrostep vor eineinhalb Jahren legte ich dann wirklich meine Karten auf den Tisch, ich versuchte etwas Extremes, das zwar technisch DnB war, sich jedoch nicht als typischen Drum'n'Bass bezeichnen ließ. Und hier werde ich weitermachen.
Was kann man von deinen neuen Tracks erwarten?
"Mr. Freud" und "Red Skies" kommen gerade auf meinem Label Beta Recordings raus. Ja, der Grund warum die beiden viel Zusage in der Drum'n'Bass-Szene bekommen ist einfach der, dass sie akzeptabler sind. Sie haben zwar nach wie vor Electro-Elemente in sich, jedoch auch genug Drum'n'Bass. Ich habe in letzter Zeit wieder viele neue Tracks fertig gemacht, derzeit läuft es echt gut.
Das bedeutet also, für dich liegt die Zukunft der elektronischen Musik darin, dass man durch das stilvolle Mischen verschiedener Stile neue Stile erzeugt.
DnB unterscheidet sich stark von anderen elektronischen Stilrichtungen, da es viel schneller ist und eine andere Beatstruktur hat – bei gleicher Geschwindigkeit lassen sich Minimal, Gabber oder House von einem DJ einfach zusammenmischen. Aber wenn man Drum'n'Bass spielt, kann man es nicht so leicht mit etwas anderem mischen. Und kann deshalb auch nichts Neues zusammenmischen, sondern eben nur Dinge, die es schon gibt. Man kann nicht einfach sagen, man spielt ein Electro-House-DnB-Set. Man muss solche Dinge erst produzieren und das ist, was ich versuche zu tun – gute Musik produzieren, die ich in meine Sets einbauen kann.
Wie passt deine Musik zum eher düsteren Drum and Bass?
Meine Grundregel für mich als DJ ist: Es muss die typische DnB-Geschwindigkeit sein, ansonsten gibt es keine wirklichen Richtlinien. Manchmal höre ich mitten in einem Set auf und spiele ein paar Housetracks, dann gehe ich wieder zurück zu Drum'n'Bass, dann spiele ich ein paar härtere Dinge wie Justice oder Boys Noize – weil das DnB-Publikum eigentlich jede Tanzmusik hört. Ich meine, wer Drum'n'Bass hört mag auch andere elektronische Musik.
Wie siehst du das Online-Geschehen rund um MySpace – schließlich hast du eine Nummer namens "I've been Stalking You on Myspace" produziert.
Ich habe dieses Lied vor zwei Jahren geschrieben, als diese social networks ihren Höhepunkt erreicht haben. Diese Nummer hat für mich verschiedene Aspekte. Einerseits habe ich Indierock mit DnB gemixt, andererseits hatte ich auch meine persönliche Erfahrung zu diesem Thema: Leute die sich auf MySpace sonderbar benehmen – die keine Ahnung haben, wie man sich zum Beispiel gegenüber Frauen richtig verhält. Und ich denke jeder Jugendliche hat sich schon mal auf unbekannten Profilen umgesehen, man ist neugierig. Ein Freund kam eines Abends zu mir mit seiner Gitarre und ich habe den Text dazu sehr schnell niedergeschrieben.
Die Nummer hat für mich ganz gut funktioniert, sie ist in London im Radio gespielt worden. Es hat mir gut gefallen eine Nummer zu haben, die kommerziell erfolgreich ist.
Du verarbeitest gerne Geschichten in deinen Tracks – großteils lustige Dinge – aber denkst du generell im Drum'n'Bass fehlt ein wenig die Message?
DnB ist nicht gerade die bedeutungsvollste Musik der Welt, es ist also nicht so schwer etwas zu machen, das auf diese Art und Weise heraus sticht.
Wie wichtig ist Online-Profilierung für dich selbst? Du bist ja sehr präsent im Internet.
Ich versuche viel Inhalt zu bieten. Ich arbeite allein im Musikgeschäft, ich habe mein eigenes Label auf dem ich auch andere Tracks veröffentliche. Ich habe schon Leute die hinter mir stehen, aber großteils arbeite ich alleine. Hätte ich keine gute Präsentation dessen, was ich mache – wie Tourvideos, Fotos, Beiträge, Tracks und so weiter – würden die Leute die normalen Drum'n'Bass hören gar nicht wissen, dass es mich gibt.
Ich treffe manchmal Leute die mir dann sagen "Hey, ich mag deine Platte auf Metalheadz, was machst du jetzt? Hast du einen normalen Job oder was?" Ich muss was tun dass die Leute mitbekommen, dass es mich noch gibt. Ich möchte nicht arrogant wirken, als ob ich einer dieser DJs wäre die in den Club stürzen und meinen "Wo ist der Champagner? Haut ab Leute! Yeah!".
In meinen Blog zum Beispiel schreibe ich auch das langweilige Zeug rein wie "Gestern hab ich meinen Steuerausgleich gemacht" (lacht). Ach ja: Ich trinke nur Weißwein, teuren Weißwein. (trinkt) Was ist das für ein Scheiß? Kellner! (lacht)
Aber in deinen Lyrics heißt es "I only drink martini"?
Ja das war nur wegen dem Reim. Ich mag auch Martinis, vor allem Chocolate Martinis! Das erste Mal als ich in Miami war ging ich in eine Bar namens "The Marlin". Damals war das eine ziemliche coole Location, es gab ein Studio im Keller und so weiter. Als ich letztes Jahr dort war parkte die Limousine von 50 Cent davor (lacht).
Was genau ist ein Chocolate Martini?
So wie die den zubereiten, nehmen sie Vanille Wodka und Clear Creamed Cacao, das ist ein sehr schokoladiger Likör. Das ganze trinkst du in einem Martini Glas und es sieht aus wie Wasser. Aber es schmeckt wie Schokolade, Super-Schokolade mit ein bisschen Vanillearoma. Solltest du Mal probieren!
Ich glaub nicht dass wir das hier bekommen können.
Vielleicht doch! (lacht)
Dein ganzes Styling wirkt verglichen zur restlichen, eher düsteren, DnB-Szene sehr exzentrisch. Wie siehst du dich selbst in der Szene?
Ich hatte immer schon eine Vorliebe für die 80er. Ich liebe 80er-Musik, die guten und die schlechten Sachen, ich mag die ganze New-Romantic-Bewegung. Ich bin zu jung um wirklich dabei gewesen zu sein, aber es war eine beeindruckende Zeit, als dann der Electro-Clash kam und es in Ordnung war für Homosexuelle in der Öffentlichkeit Make-Up zu tragen – zu Zeiten, wo Clubs wie "Electro Gogo" oder "Nag Nag Nag" boomten.
Ich weiß das von Dokumentationen und Büchern. Ich versuche mich ein bisschen in dem Stil zu kleiden, was natürlich in der DnB-Szene heraus sticht. Aber wer will schon einen DJ sehen der keine Party macht? Den Leuten gefällt es und ich habe meinen Spaß. Es ist Image.
Welche Geräte verwendest du zum Produzieren?
Ich hatte jede Menge Hardware, das ganze Zeug. Ich habe aber alles verkauft und verwende jetzt einen komfortablen Apple Mac mit Logic Pro, einer TC Power Core Card, Extra DSP, Native Instruments Software… aber das wird zu technisch (lacht)
Du greifst deine Synthesizer nicht mehr an?
Ich würde gerne, aber es ist einfach nicht mehr praktikabel genug. Früher musste ich wegen der ganzen Mixing-Einstellungen einen Track von vorne bis hinten fertig machen bis ich was Neues beginnen konnte. Heute kann ich viel schneller arbeiten, ich wechsle zwischen den Tracks hin und her, es ist alles greifbarer am Computer.
Was ist dein beliebtester Club in Österreich?
Das Urban Art Forms Festival! Das war wirklich lustig. Es ist auch immer gut in Wien zu spielen, ich hab schon in vielen verschiedenen Clubs gespielt. Die Crowd ist immer top, in Österreich sind die Partys immer gut. Gestern hatte ich einen Gig in Manchester. In England bekommt jeder DJ gerade eine Stunde zu spielen, da die Clubs auch schon früher zusperren und alles dichter gestaffelt ist. Dafür muss ich nicht so lange arbeiten (lacht).
Wenn ich jedoch im Ausland spiele bin ich meist Headliner und die Leute freuen sich wenn ich länger spiele. Das gefällt mir. Ich freue mich schon wieder auf den nächsten Besuch bei euch.

Text: Martin & Chris
Der Text erschien im resident Magazin und wurde future-music.net freundlicher Weise zur Verfügung gestellt.